We love chicken.  We use it at least 3-4 times a week, but I also love easy recipes and prepping foods in advance.  One of my favorite ways to cook chicken is to use this Easy Crockpot Roasted Chicken recipe.  Not only is it quick to toss into the Crockpot, it is super tasty and versatile.  You can eat it as is, shred and season for tacos, enchiladas, casseroles, chicken pot pie – just about any chicken dish!  While I use a basic set of herbs for this roasted chicken, you can adjust and add any of your favorite seasoning blends.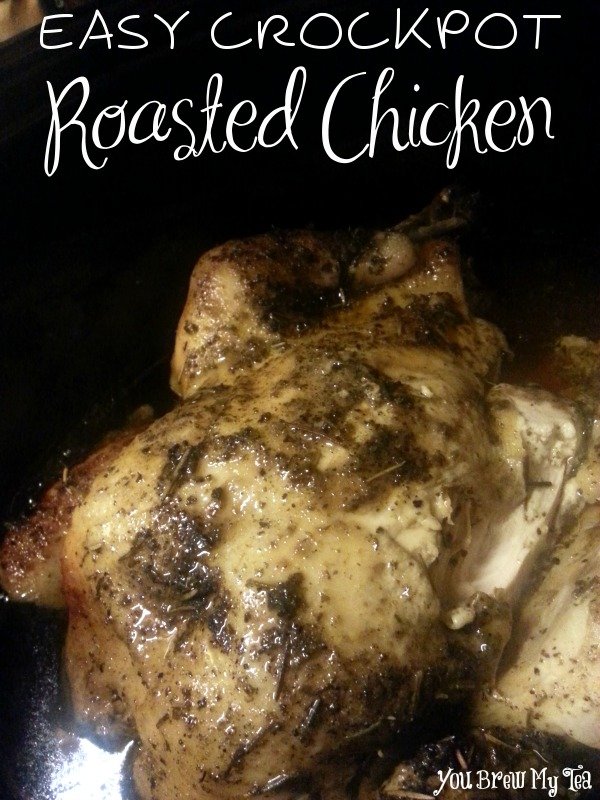 EASY CROCKPOT ROASTED CHICKEN
Easy Crockpot Roasted Chicken
Ingredients
1 Large Whole Chicken
1 Teaspoon Rubbed Sage
1 Teaspoon Marjoram
1 Teaspoon Onion Powder
1 Teaspoon Garlic Powder
1 Teaspoon Rosemary
1 Cup White Wine
Instructions
Turn Crockpot to medium or high heat setting
Mix seasonings together
Place chicken into Crockpot and sprinkle seasonings liberally on both sides. Use any extra to put inside carcass
Pour white wine over chicken.
Cook on medium to high heat for 4 hours. Cook on low heat up to 6 hours.
We love using this chicken in a lot of our most popular recipes here!  It is great for tossing into salads, serving with mashed potatoes and vegetables or any dish you would want shredded chicken for.  This is also the perfect way to cook 2-3 whole chickens for monthly freezer meal prep.  These chickens whole are often much cheaper than buying individual parts of the bird.  If you live near a The Fresh Market, you can often find them for as low as $1.49 per pound in antibiotic and hormone free varieties too!  We love stocking up when they are on sale.  I will put 2 chickens in the
Crockpot
and then shred one for immediate use while I shred the other for future meals and freeze.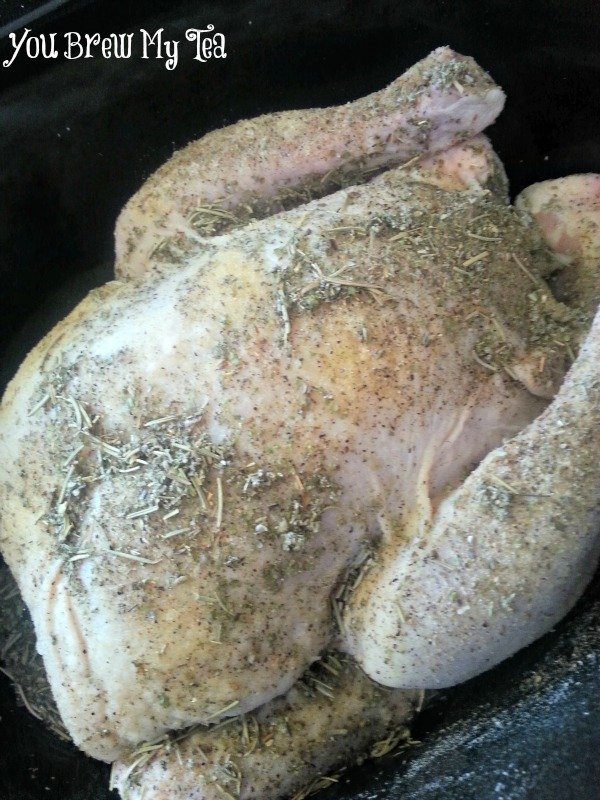 Check out our other favorite Chicken & Crockpot recipes!
Weight Watchers Green Chile Chicken Enchilada Soup
Weight Watchers Roasted Poblano Chicken Enchiladas
Crockpot Weight Watchers Sloppy Joes