When approached to talk about Cottonelle toilet paper & flushable wipes, I was actually kind of excited.  You know we are pretty picky about toilet paper in our house.  Like seriously picky about what we use on our bums.  That, along with the fact that there are great coupons included, I knew I wanted to share this campaign with you.  But how does one talk about toilet paper and flushable butt wipes without seeming like it's a totally generic and lifeless post.  Come on guys, you know this is a sponsored post – so you likely are rolling your eyes and saying whatever.  The thing is – when it comes to our backsides, well..the kind of toilet paper we use is really truly important.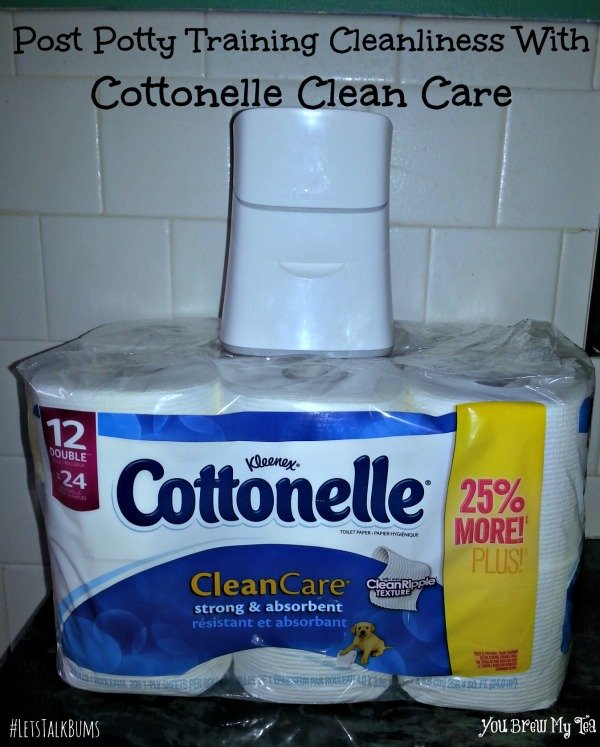 Post Potty Training Cleanliness With Cottonelle Clean Care #LetsTalkBums
First off – let's talk about why I love Cottonelle Clean Care Toilet Paper.  You see, I am really picky about what we use.  I hate thin sand paper toilet paper.  I don't want to pay for something I would find at a gas station on a giant roll.  I want quality at home.  On top of that, I want it to be soft, but not lotioned.  I don't like feeling like my bum is still "dirty" after I wipe.  Cottonelle Clean Care Toilet Paper offers soft, thick toilet paper that does the job and leaves our bums feeling clean and fresh.
Cottonelle Flushable Cleansing Cloths come in handy for the other thing on our list.  The messier bathroom visits.  It's gross.  Perhaps uncouth to speak of in mixed company, but the truth is we all use the bathroom and we have all experienced a less than fresh feeling at some point.  These handy Flushable Cleansing Cloths are just what you need!  Not only do they help take care of those messier bathroom visits with ease, they are simple to flush and affordable.
I had heard of flushable wipes in the past, but outside of using traditional baby wipes on my kids when they were infants, I didn't really know much about them.  It has been a few years, but when my youngest was finally potty trained, we found the need to continue using baby wipes on his bottom from time to time.  At a young age, they can't always properly wipe themselves, but they also want independence.  If you have ever had a child tell you, "I'm not a baby any more", then you know how stubborn they can be when you ask them to use "baby things".  When our son was starting to get to that independent stage a few years ago, he refused to use baby wipes because he wasn't a baby any more.  With a bit of convincing, we found that wipes like the Cottonelle Flushable Cleansing Cloths were perfect!  Not only did they do what we wanted – keep his bum clean – they were for adults too.  That made him happy, and lowered our stress level considerably.
Whether you like the wet dry routine of using both flushable wipes and toilet paper yourself, are looking for affordable toilet paper that doesn't feel like sandpaper or you are dealing with an independent potty training kiddo who wants nothing to do with baby things – Cottonelle has you covered!  On top of that they are offering this great $1.50 Coupon for your next purchase!  Not only are these great prices in store – you have the added bonus of this awesome $1.50 off Coupon for Cottonelle Clean Care Toilet Paper & Flushable Cleansing Cloths to keep you in budget!
Print Your Coupon HERE!
Thanks to Cottonelle for sponsoring this fun post about bums, butts, booties and more!  While this is a sponsored post, we only share about companies and products we use and enjoy.  We are already fans of Cottonelle products and glad to share this information and great coupon with you!