This is a sponsored post written by me on behalf of Buca di Beppo® for IZEA. All opinions are 100% mine.
We are pasta fanatics, and even though I have to give it up for awhile, the man and the Wee Child still enjoy a great pasta meal.  Buca di Beppo's is a favorite for our family with the great flavors, great price and family environment.  Did you know that this month is World Pasta Month and they are celebrating with a great Create Your Own Pasta Bowl promotion?
If you love pasta, but want to personalize it just a bit, this is the best way to enjoy your favorite meal!  Create your own unique pasta blends with your friends and family, and snap a picture with your meal for a #PastaSelfie photo at Buca di Beppo!  What a great way to celebrate a special day in your life, a fun date night or just a family meal out!
We love grabbing some whole wheat pasta, olive oil, fresh basil, tomatoes,mushrooms, peppers, onions and Parmesan cheese for a simple but delightful pasta dish.  Just like most families, pasta is a great hearty meal that goes along way on a budget.  One of our favorite things about the restaurant is how affordable it is to feed our whole family.  Pasta, easy creations and great times with family? Of course I want to head out and celebrate by creating my own custom dish!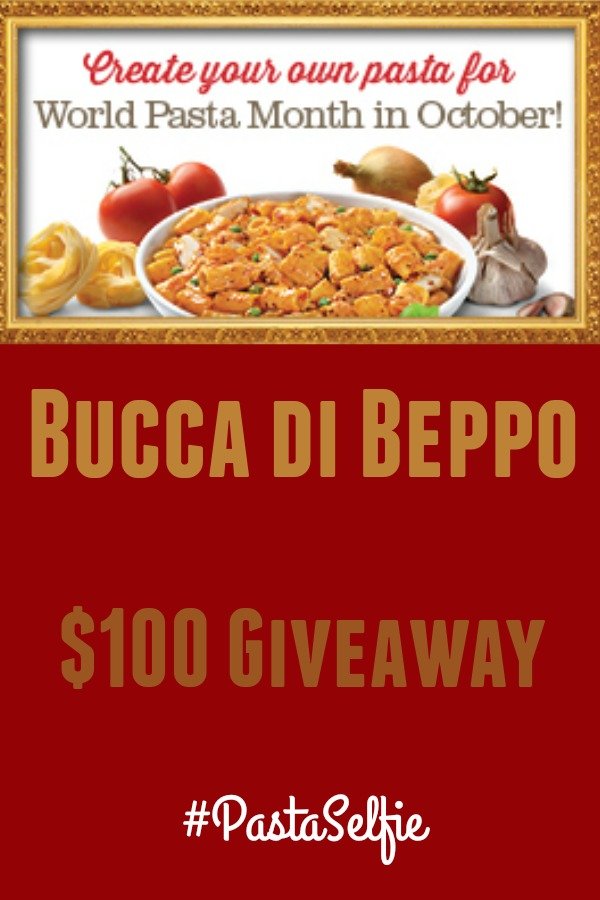 Whether it is a date night meal, a celebration of good grades or a holiday meal with your family you have catered, the #PastaSelfie contest is just another fun way to share your love of pasta with the world.  All you have to do is (1) Snap a picture of your Create Your Own Pasta Bowl (2) Share it on Instagram using #pastaselfie #sweepstakes and tag @bucadibeppo.  (3) You've entered for a chance to win a $100 gift card to Buca di Beppo!
Our readers are invited to leave a comment on this post with your favorite pasta dish and enter the giveaway link below!
Buca di Beppo Create Your Own Pasta Bowl Giveaway
What creation would you make?