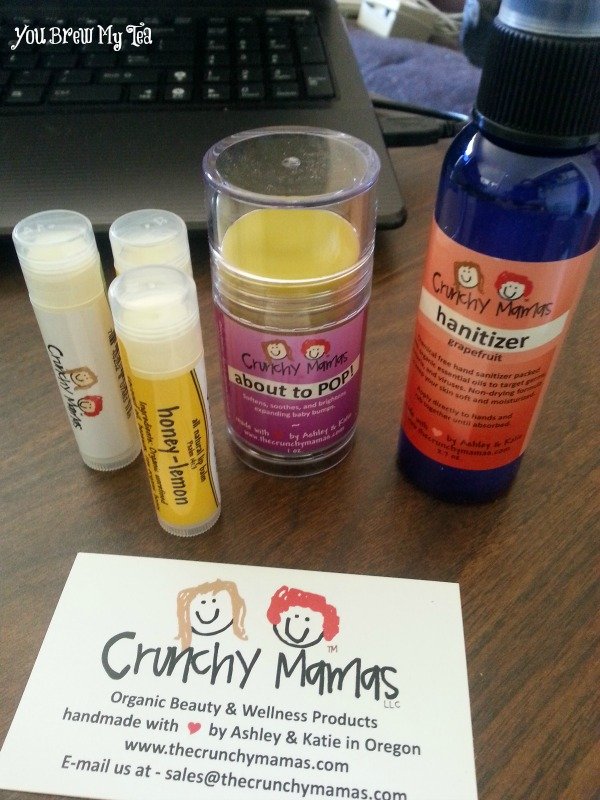 I seriously love investing in small businesses, but especially when they are focused on using products made in the US that are organic, natural and healthy for me and my family.  A few weeks ago, I received an email from the ladies at CrunchyMamas about doing a review of some products for them.  I was seriously excited to check them out.  I love finding small companies working hard to put out products that they can feel good about using for themselves and their family.  I picked out a few things and waited a bit impatiently for my package to arrive.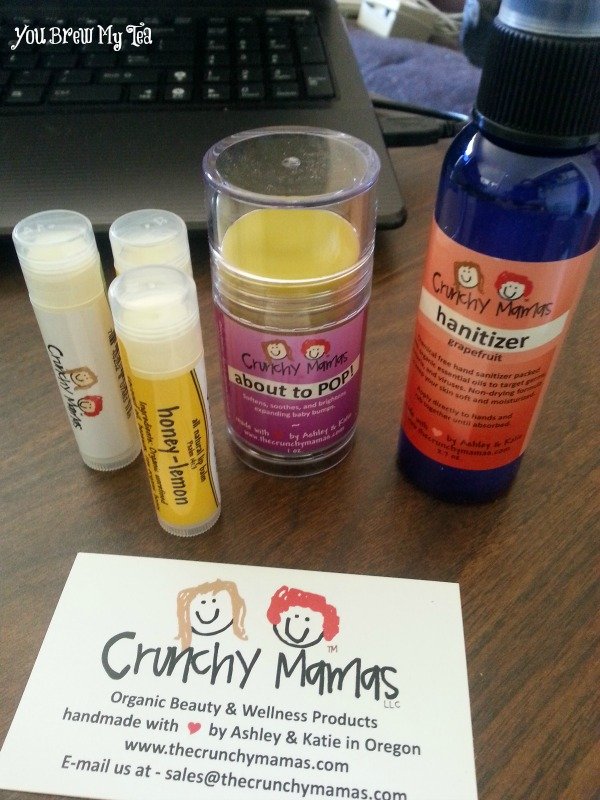 Crunchy Mamas Organic Beauty Care Product Review
Ashley and Kate put together a fun little package for me that was just perfect.  I knew I wanted to try their lip balms and hand sanitizer aka "hanitzer", and also mentioned to them that my best friend was pregnant and I thought their About To Pop! product might be cool for her to try.  When the package arrived, I was seriously impressed with what I received.  Not only were the products high quality, but the packaging was so professional.  Much more sophisticated than I expected from a small "mom and mom" business.  These two ladies and their staff definitely have a great business plan!
We received bot the Honey-Lemon and the Mint lip balms.  I absolutely fell in love with the Honey-Lemon lip balm.  Like forget every other brand, lip gloss, lipstick – this is the stuff I want.  It smells fantastic. It tastes amazing and most of all – it really works on my chapped lips.  I have always struggled with chapped lips and seem to be using lip balm constantly (especially in winter months).  I have tried straight coconut oil in the past, but it just left me feeling too oily and the flavor was a bit too strong.  This however, was just perfect.  Can I mention again how much I love it?  Seriously, I ADORE this stuff.
The Hanitizer was just the right sized bottle to add to my purse (which is significantly smaller since back surgery).  It has a bright smell that worked great for all of us.  Grapefruit and lemon essential oils make it a perfect refreshing scent while providing all the anti-bacterial components you are looking for.  Since it is alcohol free and contains organic aloe vera, it is actually moisturizing instead of drying.  For me, that is super important in the winter months when we want to use it even more often.
The About To Pop! product is totally awesome.  Perfect for using on dry skin, or in this case – specifically for pregnant mamas and the stretched and dry skin of their bellies.  The components are great for helping to ease unsightly stretch marks, but also to just simply provide much needed moisturizing.  I believe you could use it on elbows, legs, arms, just about anywhere!
We are always huge fans of small businesses, but even more when we find one that really has the product needs in mind.  Crunchy Mamas definitely knows what people need and want.  With great products, quality packaging and an open and honest outlook on themselves and life – they are seriously people I am happy to recommend to you!
Check out their complete product line as well as make sure to follow them on Facebook and Instagram.  They recently had a fun little scavenger hunt event in their local area where you could try to find them out and about and possibly win something fun.  Definitely a great way to connect with them if you are local to them, but also online for their promotions!  We really love their brand and hope you will too!
We did receive the products mentioned above in exchange for a review on our site.  However, we seriously fell in love with these products and are more than happy to promote them to our readers.  All thoughts and opinions within this post are 100% our own.