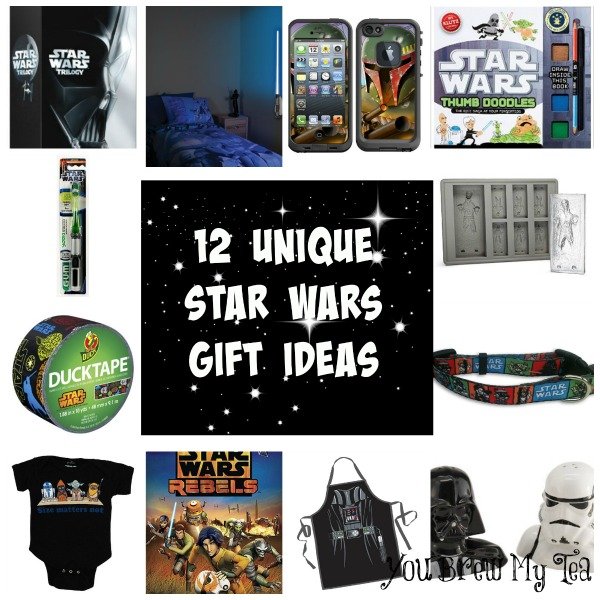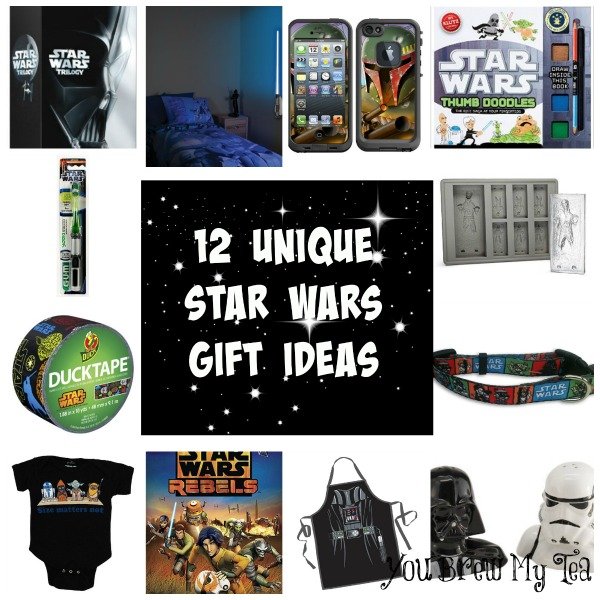 This collection of 12 Unique Star Wars Gift Ideas has something for everyone! From classic Star Wars to the newest Rebel Wars, and gifts for the baby of the family to the family pet- I have you covered here. You are sure to find something for everyone who loves the force, Darth, Obi Wan, and all the rest. I have even included a couple stocking stuffers to finish off your holiday shopping.
 12 Unique Star Wars Gift Ideas
Star Wars Trilogy Blue Ray + DVD- If you don't have the trilogy in your media library you will want to add it.  I am picking it up for my son this year who has discovered Star Wars through the Rebels cartoons- I think he needs to see the original, don't you?
Remote Control Light Saber Wall Light- I love this awesome night light, perfect for a Star Wars themed bedroom-with a remote!
iPhone 5 Case- Use the force in style and protect your phone at the same time with this cool Boba Fett case.
Star Wars Thumb Doodles- This book is perfect for the creative kid ( or grown up) . It includes ink pads, markers, and a light saber double ended colored pencil.
Kotobukiya Star Wars Han Solo Silicone Tray- Whether you use this for a theme party, to make shaped soaps or treats this silicone mold with 1 large compartment and 6 small is sure to be a galaxy favorite.
Star Wars Pet Collar- You can't forget your pet when it comes to picking up Star Wars themed gifts can you?  A cute collar for Fido to continue the theme.
Vader and Storm Trooper Salt and Pepper Set-Star Wars even battles its way into the kitchen if you grab this awesome Darth Vader and Storm Trooper salt and pepper set.
Darth Apron- The tongs will be with you when you grill as Darth Vader in this super cute apron. It's machine washable and printed in the USA.
Rebels Dvd- The newest in Star Wars offerings out there,  kids love this animated series.
Star Wars baby Onesie- Raise em' up right, Star Wars gear comes in even the littlest sizes for your new fan.
Star Wars Duct Tape- Use it for cool projects like wrapping a plain wooden frame, a duct tape wallet, or just to keep your car together with a little sense of Jedi style.
Light Saber electric toothbrush- A perfect stocking stuffer to finish off your shopping for your Star Wars fan, " Luke.. I am your toothbrush"
These gift ideas are perfect or the geek, nerd or sci-fi enthusiast on your list this year!  Fun, different and great prices make them all the perfect item to snag now and tuck away for the holidays!