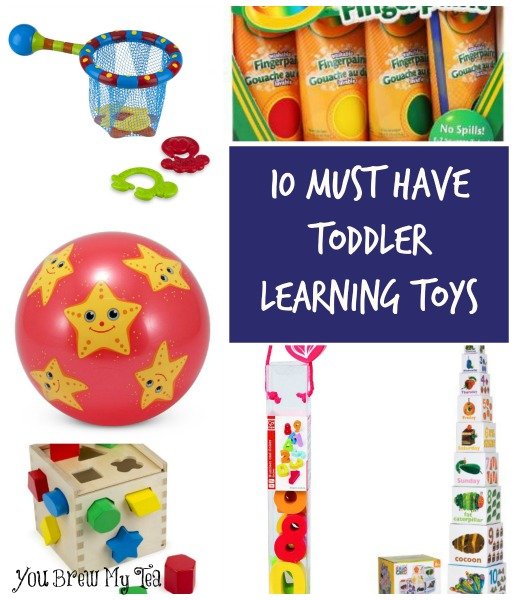 These 10 fun and colorful games and toys all develop such important toddler skills as hand eye coordination, small muscle development/fine motor, color and number identification.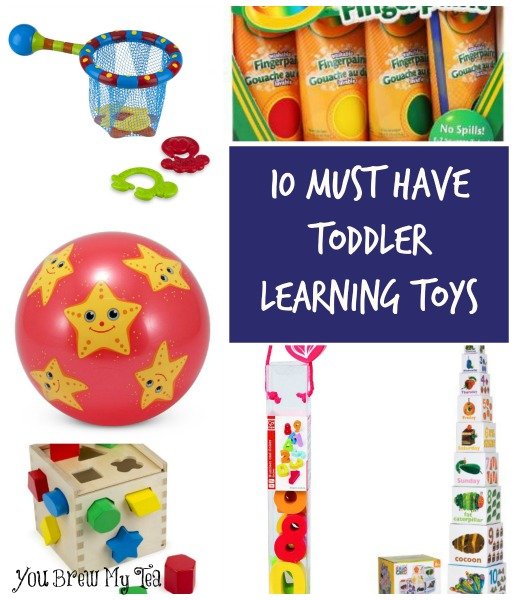 1. Hape Numbers and Colors- These chunky numbers are a fun and bright way to introduce numbers and colors to your child. Buy two sets and they can be used for matching colors or numbers. Hide them in sand or rice in a sensory bin for your child to discover.
2. Shape Cube- Remember the simple old shape sorter of the past? These are still a fantastic tool for your child. Giving them a fun way to learn shapes and problem solve as they work to fit them where they go.
3. Stackable Blocks- Hand eye coordination, size differentiating,  fine motor skills and more  are taught through simple play with these stackable blocks.
4. Chunky Puzzles- Puzzles are great fine motor practice  for little hands-  grasping and placing them in the correct spot.  Start with simple 4-6 piece puzzles if your child has not worked with puzzles much yet. Pieces with knobs are the least frustrating for a child to use early on.
5. Fingerpaint- Any kind of finger paint is fun and works their little hands fine motor development. They can be used for practicing colors and for introducing pre-writing skills  This is traditional finger paint but this mess free looks really fun for mom!
6. Building Toys- Even at a young age children can learn so much from LEGO type building toys.  This set is even a pull toy for an added bonus.
7. Crayons- These triangular crayons encourage a proper grip, setting them up for greater success later on. Even when they seem to be just randomly scribbling children are working those little minds.
8.Bath Toys- Learning and development can take place anywhere, even in the tub. My favorite tub toy is a net with fish to catch- it is great for learning colors, hand eye coordination, fine motor, and most of all just fun play!
9. Balls-  Supply them in multiple shapes, sizes, and textures for your child to play.  Balls are fabulous for developing gross motor skills, coordination, and other skills.  A simple playground ball is a must in your yard, add a few others for variety.
10. Board Books
My 5 favorites
ANYTHING by Sandra Boynton