We love to make big batches of yummy soups to eat for easy and satisfying meals during cooler months.  One of our favorite soups in the past has been a chicken enchilada or chicken tortilla soup, but wanted to see what we could do to make it a bit less fattening and still satisfying.  This Weight Watchers Green Chile Chicken Enchilada Soup is a great substitute and comes in at only 3 points per bowl.  That is a hearty portion too!  Not only is it packed full of flavor, but it is so easy and simple to make you won't believe it.  We are working hard to continue eating as much organic as possible, and this recipe is a perfect one to showcase how tasty organic produce can be.
If you like making meals ahead and freezing them, or simply enjoy the ease of using your Crockpot for evening meals then you'll love this one.  Not only is it a great make ahead and freeze soup, it is perfect for tossing into the crockpot and letting simmer all day.  While the flavors are great in this, it doesn't offer that heat punch you think of when you hear the words green chile or peppers.  It is a favorite of the Wee Child and is truly kid friendly.
Makes 8 Servings
3 SmartPoints Per Serving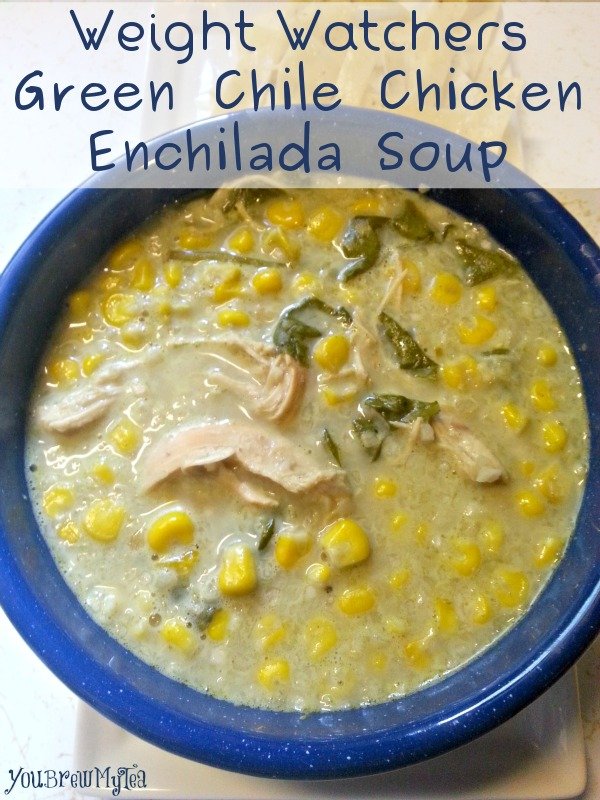 WEIGHT WATCHERS GREEN CHILE CHICKEN ENCHILADA SOUP
Weight Watchers Green Chili Chicken Enchilada Soup
Prep time:
Cook time:
Total time:
Ingredients
1 Pound Shredded Boneless Skinless Chicken Breast (we roast in oven and shred, but you could easily use a rotisserie chicken for this)
1 Cup Fat Free Sour Cream
2 Cups Frozen Corn
4 Cups Baby Spinach
1 White Onion Diced Fine
1 Yellow Bell Pepper Diced Fine
3 Poblano Peppers Roasted and Diced
3 Cloves Minced Roasted Garlic
5 Cups Water
3 Cups Fat-Free Low Sodium Chicken Broth (we make our own but you can easily use organic canned broth)
1 Tablespoon Cumin
1 Teaspoon Salt
1 Teaspoon Black Pepper
Instructions
Combine all ingredients into a large stockpot and simmer on medium heat for 1 hour.
Crockpot: Combine ingredients and cook for 3 hours on low.
As you can see this recipe is super easy to throw together.  If you prep your vegetables and chicken ahead of time like we do each week it will take no time at all for you to toss this into a
slow cooker
and allow to cook while you do housework or go shopping.  Come home to the great smell of this healthy soup simmering and enjoy a heaping bowl with a side of baked tortilla chips!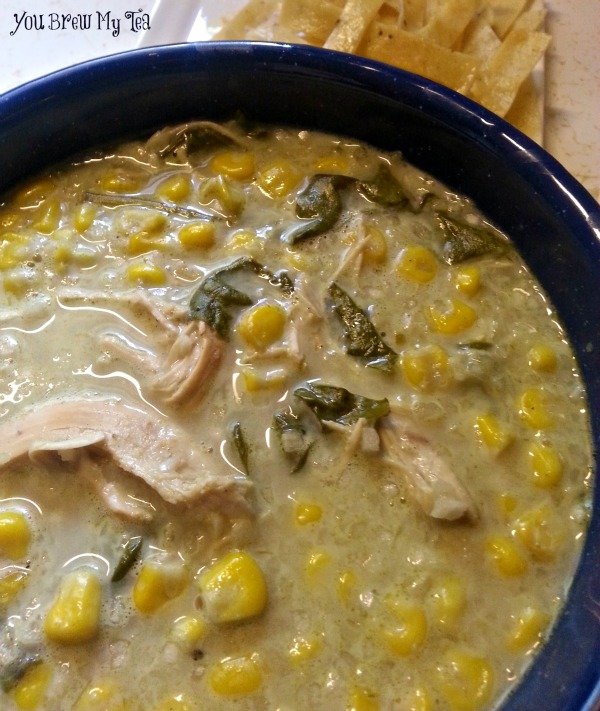 More Weight Watchers Recipes:
Weight Watchers Sesame Chicken
Weight Watchers Baked Veggie Egg Rolls
Weight Watchers CrockPot Chicken Verde
Weight Watchers CrockPot Homemade Sloppy Joes