Baked Mac n' Cheese has been a favorite of mine since childhood, but this particular recipe is the creation of my mother-in-law.  In fact, it is something that my Beau has been telling me about for years now.  So, this year for his birthday, I finally indulged and bought the ingredients to make this dish just for him.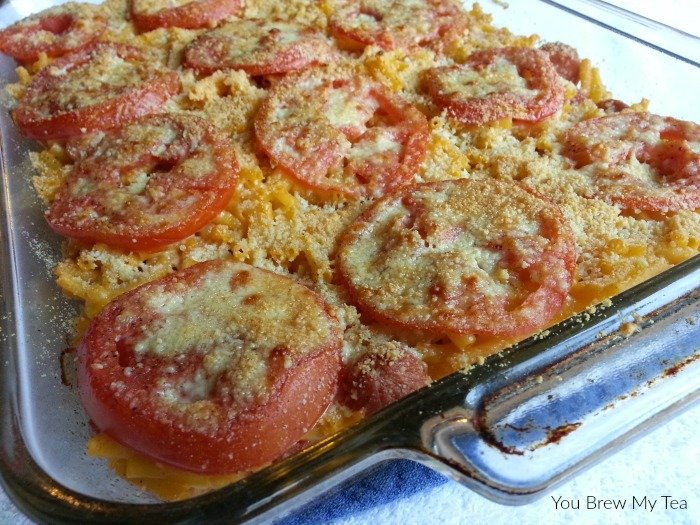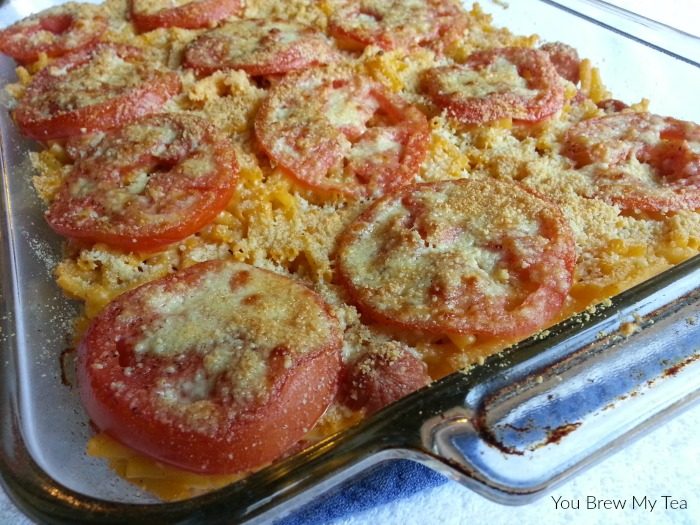 Baked Mac n' Cheese with Hot Dogs & Tomatoes
This post contains affiliate links. 
You see, when my Beau was a kid, this baked mac n' cheese was a regular Sunday night meal that his mom made.  It was one of those things that he didn't realize came out of having a small budget for food.  He thought it was a special meal, but his mom told him it was one of the cheapest things she could make to feed the family.  While it isn't my favorite meal, it is, in fact, that one comfort food my Beau absolutely loves.  So, last month, I made a batch for his birthday.  The look on his face was priceless.  He was grinning from ear to ear.  Totally worth it in my book!
This is one of those recipes that is definitely semi-homemade.  While not my typical recipe to share here, I just can't resist sharing since it made my Beau, and the Wee Child, so happy.  It uses boxed macaroni and cheese, and while he grew up using the classic Kraft version, we used Annie's Organic macaroni and cheese.  If I can make it just a bit healthier, I am definitely going to do so.  You can use any hot dog or sausage you prefer.  I use Applewood Beef Hot Dogs.
I prep my 9x13" casserole dish with just a little non-stick spray ahead of time.  While I want the macaroni to dry out just a bit, I don't want it to burn.  I then prepare the macaroni and cheese according to box directions.  You can heat the hot dogs up before you mix them in, or simply slice and toss in as you pour into the casserole dish later.  They will heat through in the oven.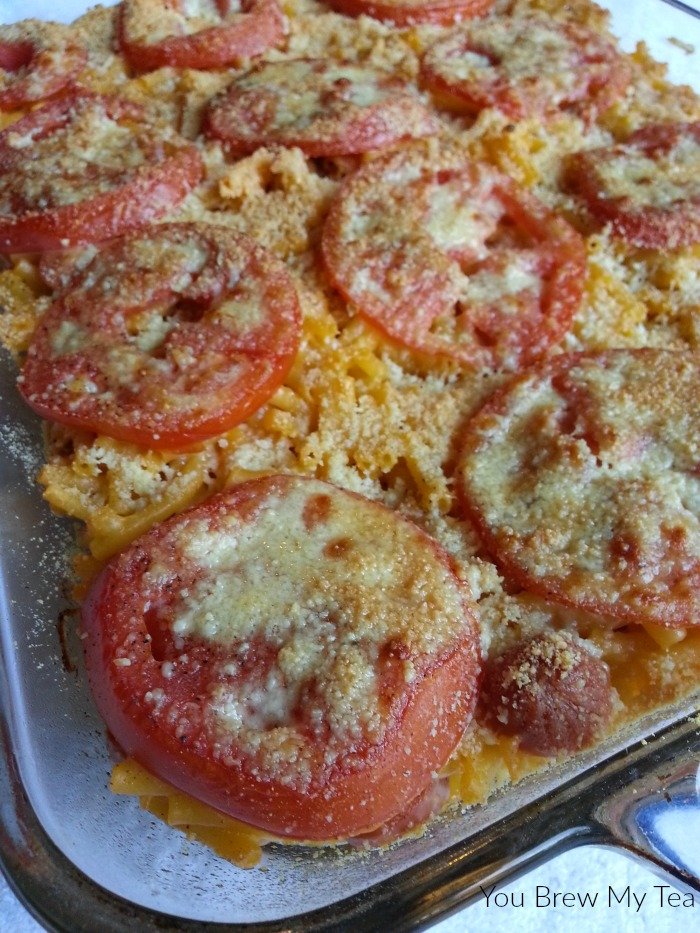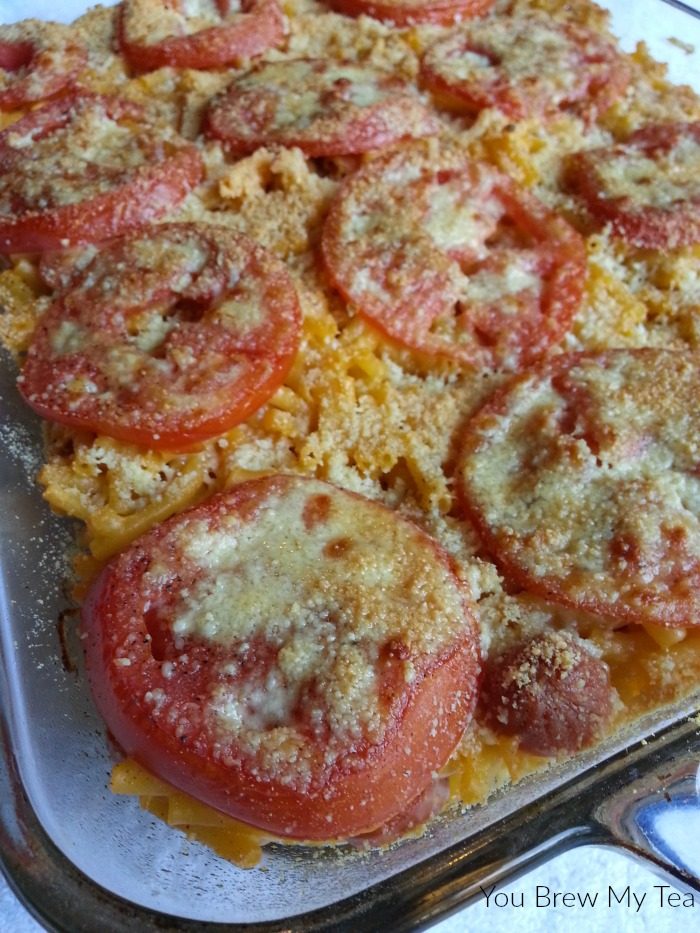 Don't be afraid to be generous with the tomato slices on top.  One key step, though, is to make sure before you sprinkle with Parmesan, you sprinkle salt and pepper on the tomatoes.  This makes a big difference in flavor and just makes those tomatoes pop.  As you cook this baked mac n' cheese, make sure you are watching the top so it doesn't burn.  You want it just nicely browned, and the tops beginning to dry out a bit and create some crisp on the Parmesan and the top layer of pasta.

Baked Mac n' Cheese with Hot Dogs & Tomatoes
Ingredients
3 boxes macaroni and cheese
1 large tomato sliced thinly
½ cup Parmesan cheese, grated
Salt and pepper to taste
Instructions
Prepare the casserole dish with nonstick cooking spray.
Preheat oven to 375 degrees.
Prepare macaroni and cheese according to box directions. Add salt and pepper to taste.
Add sliced hot dogs to macaroni & cheese and stir to mix well.
Pour macaroni and cheese into the casserole dish and spread evenly.
Top evenly with sliced tomatoes.
Sprinkle tomatoes with salt and pepper.
Sprinkle top with Parmesan cheese.
Bake at 375 degrees for 17-20 minutes or until browned and bubbly.
This baked mac n' cheese recipe is a fun twist on a classic box of macaroni.  Your kids will love the addition of hot dogs, and you'll love how easy it is to prepare.  Mix it up a bit with different sausage, hot dogs, or even ground turkey or beef if you prefer. Serve with a side salad or favorite vegetable.
You May Also Like: 8 Healthy Fat-Free and Low-Fat Pimento Cheese Recipes
More easy recipes: