My friend Jill made this delicious Penne Pasta with Parmesan, Garlic and Red Peppers a few days ago and I knew we had to have it on the blog.  I love simple dishes that can be thrown together in minutes but provide all the flavors you need for a tasty meal.  This pasta dish is perfect for adding some grilled chicken to as a full meal, or served as a side dish with your favorite meats.

Penne Pasta with Parmesan, Garlic and Red Peppers
Post may contain affiliate links.
One night when my Beau and I were dating, I made a simple pasta dish for dinner.  It was the first time I had really cooked anything for him, and it was thrown together in a half hour.  It was very similar to this recipe for penne pasta dish that Jill prepared.  It had a basic pasta, some olive oil, garlic and of course Parmesan with a few veggies.  It became one of our favorite easy meals back when we were first dating since I could make it so fast when he arrived after work.  When I saw this recipe, it reminded me so much of that meal that I knew I wanted to share it with you.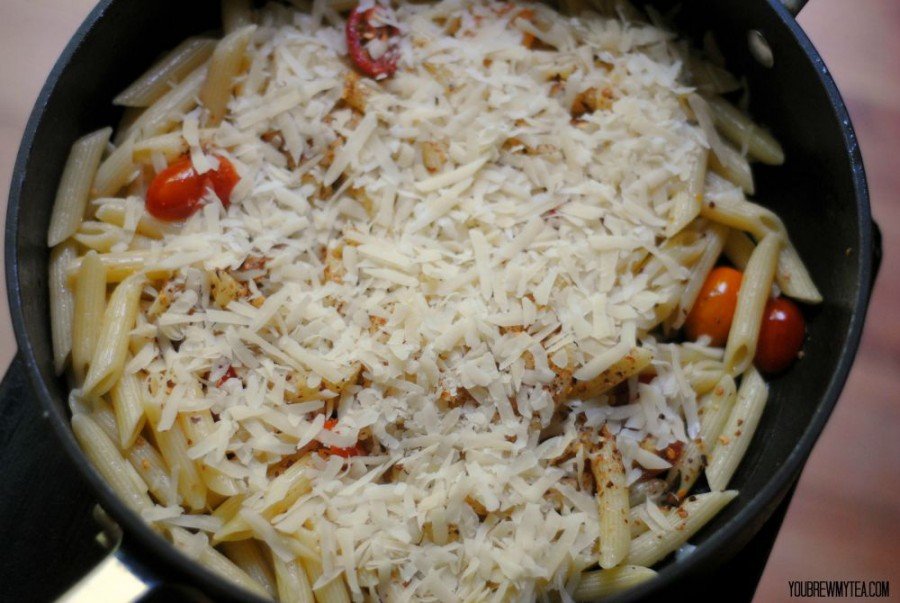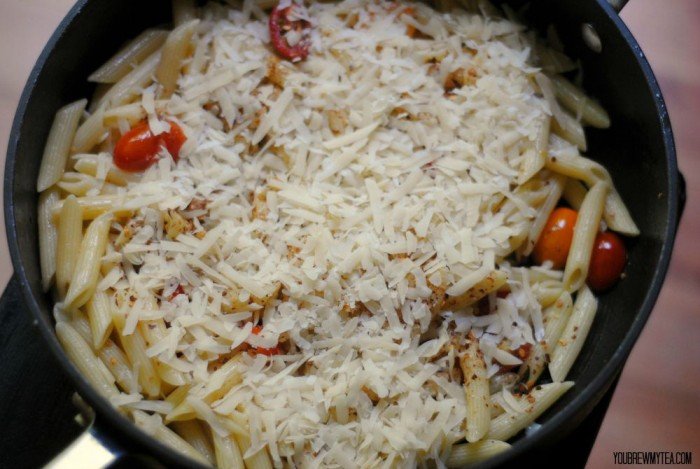 We prefer using a great cast iron skillet for the initial preparation of this dish, but you can use any skillet you like for heating the oil, tomatoes, garlic and red pepper flakes in.  You can use any pasta, but penne pasta is a favorite since it holds the sauce well. Cook your pasta (we often use a gluten free corn based pasta), and then mix with your heated oil, tomatoes and seasonings.  Last you'll want to add in the Parmesan.  For this dish, we use some freshly grated or shaved Parmesan. You could use the canned grated variety, but it's not going to back the rich flavor or texture that is best.  Invest in a quality Parmesan and you'll be able to tell the difference right away.

Penne Pasta with Parmesan Garlic Red Peppers
Ingredients
16 oz penne pasta
1½ C. grated Parmesan cheese (freshly shaved is best)
1 pint of grape or cherry tomatoes, halved
2 cloves fresh garlic, sliced
1-2 tsp. red pepper
2 tbs olive oil
salt & pepper to taste
Instructions
Cook pasta according to package directions. Drain and set aside.
Heat olive oil in skillet or saute pan.
Add in garlic and tomato halves cooking for 6-8 minutes or until cooked through. Stir occasionally to prevent burning.
Add in pasta and toss with olive oil, garlic and tomatoes.
Add in red pepper flakes to taste (use less if prefer mild)
Heat through.
Add in Parmesan cheese, stir and allow to melt.
Serve as a side, alone or with your favorite protein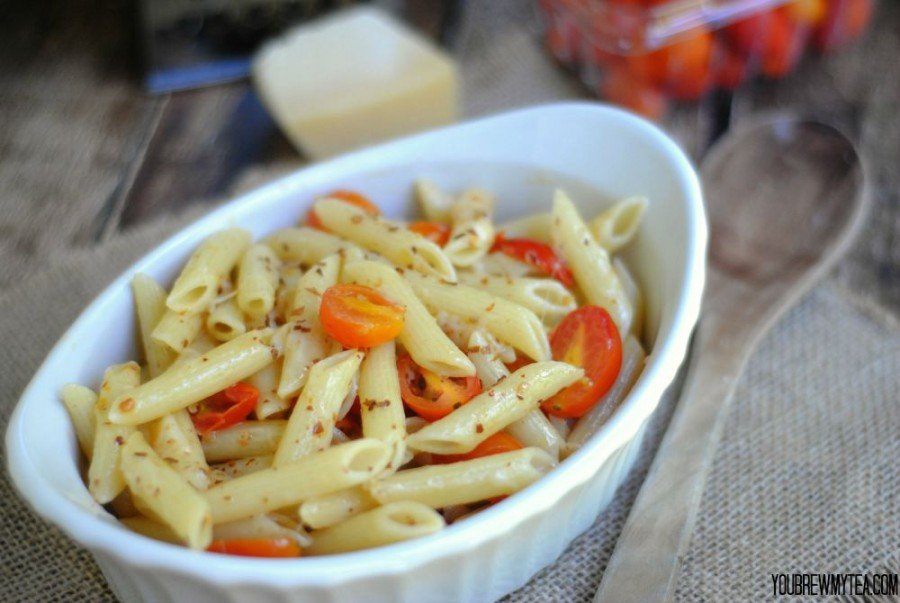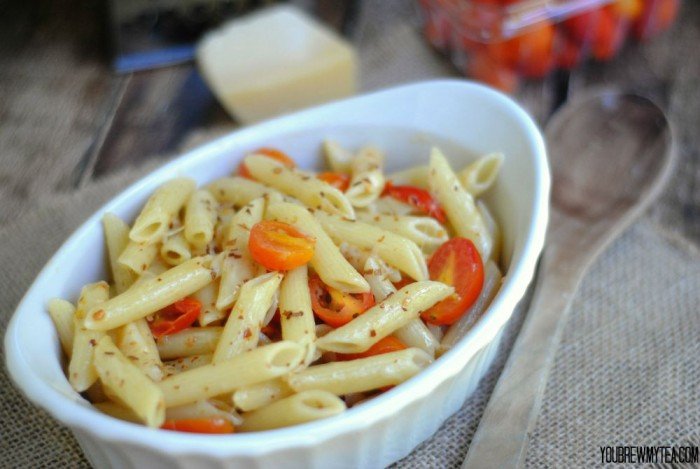 This penne pasta with Parmesan garlic red peppers is a delicious meal in itself, but can also make a wonderful base for a hearty casserole with more of your favorite vegetables or grilled meats.  This simple flavor combination makes the most of budget friendly ingredients that please the entire family.
Check out some of our other favorite easy pasta dishes!
Garlic Tomato Halibut Pasta
Not Your Mama's Tuna Noodle Casserole
Hearty Homemade Spaghetti Sauce