Last week I post about 30+ Apps That Pay You To Use Them.  I had a few ask if this was legit, and how much to expect from using those apps. So, I decided to write a follow-up post breaking down how I made over $1500 this week working from home.  I'll preface this by saying, not all of these numbers are going to be routine each week.  Many, in fact, are monthly payments.  So, this is a good breakdown of one week, but some weeks may be $500 and others $2000.  It varies widely depending on what work I am doing at the moment.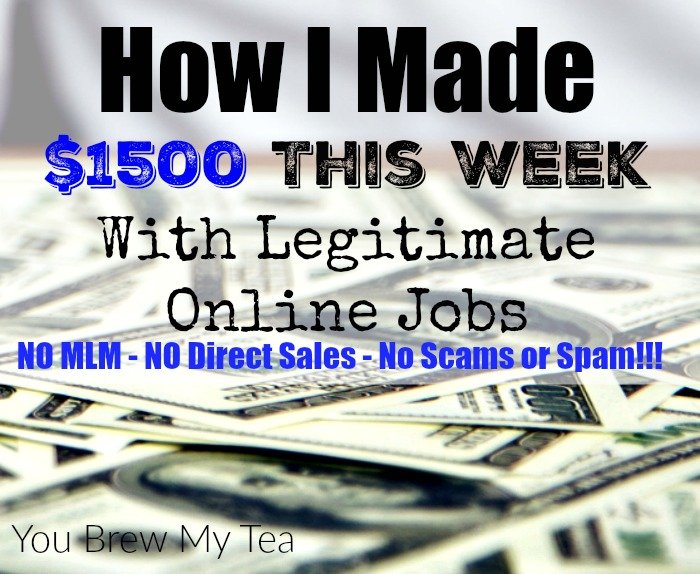 How I Made $1500 This Week With Legitimate Online Jobs
I will link to the blog posts that give more details about some of these resources below, so make sure to check those out so you can get a better idea of what I am doing to make this money.  There are some added details in those posts that make it easier to understand and will give you more information on how to make money from home.
Money Made From Apps:
These are all apps that I downloaded to my smartphone and signed up with an account for.  Each app has different offers, requirements, or abilities to pay back rebates on your regular purchases.  I love that these don't take much, if any, time from my regular routine each day. 1-2 hours a week using these can easily bring an extra $100 a month if not more.  This post does contain some of my affiliate likes for apps and such.  Just a heads up that in some cases I may earn a reward for your sign up.
Swagbucks: $10
I earned 1132 Swagbucks this week and cashed in 1000 for a $10 Amazon Gift Card.  I participated in the daily poll and took 2 surveys each day.  A few surveys gave me 50 Swagbucks, and several were worth 200 Swagbucks. I also ran the Swagbucks app on my phone to play videos while I worked earning an extra 77 points this week just by letting it run while I did other tasks. I like Swagbucks because I can use it on my phone, or on my laptop. Sign up with my referral link online, via Android, or iOS.
Inbox Dollars:  $12 
Inbox Dollars is hit or miss, but I happened to receive a nice large survey twice this week that paid out $7 and $5 respectively.  That is all I did for this, but usually, I will check in every day or two for surveys or offers that are easy to complete.  It usually takes me 3-4 months to reach the $30 payout amount, but since I am only doing an occasional survey it's an easy cash out over the course of a year.  Sign up with my referral link online, via Android, or iOS.
SlideJoy: $3.50
I have this installed on my lock screen along with Fronto listed below.  Both now have offers you can sign up for to earn more points, but I only use this to earn "carats" when unlocking my phone.  You can cash out via Paypal at 2,040 carats for $2.  I actually made closer to 4000 carats this week so approximately $3.50.  I plan to let this build up and cash out for a larger sum later.  Sign up with my referral link or via Android.
Fronto: $2.00
Fronto has more offers and things to read and make points with, but I have been using just the unlock slide feature for now.  I am trying to avoid spending a ton of time on these and letting them simply earn passive income.  Every 3,375 points is $1 via Paypal.  I am currently around 8,000 points for the week. Sign up using my referral link and referral code AxCC1Eyy to get 1250 bonus.  On Android or iOs.
Make Money: $3
This app has videos, offers, and a daily check in you can earn credits with.  I have downloaded 2 games this week for 500 credits each, completed the daily check in for 20 points, and watched numerous videos throughout the week.  This morning (Saturday), I downloaded another game for 1000 points since some weekends are double points.  I have a little over 3000 credits in my account for this week.  You have to have 5000 credits to cash out for $5 via Paypal. This is a lot slower since I won't do any of the offers (tend to be spammy), and will only download certain games. Use my referral code V0Z2FP.  Available on Android or iOs.
App Trailers: $6.50
I left this app on to play videos for about an hour each day while I worked.  I simply log in, cue up the videos and make sure to tap the screen occasionally so they don't time out.  It's easy to have sitting on my desk while I work and earn passive income.  You can cash out for Amazon or Paypal at 1000 points which is equal to $1.00.  If you load your own videos onto the app, you may find yourself able to make more money. Available on Android and iOs.
iBotta: $4.25
I loaded receipts from a Kroger trip and Walmart trip this week that had a few specific rebates on bread, bananas, milk, eggs, and one cleaning product we use.  I will cash this out later when I reach the $20 minimum again.  Use my referral code 3gn9xg for a bonus reward.  Available on Android and iOs.
Walmart Savings Catcher: $.98
I scanned 2 receipts this week from a few trips we made to Walmart and found only 1 item at a lower price in our area. I love that this gives you the lowest price in the area without having to do all of the research. Available on Android and iOs.
Total earned this week from Apps: $42.23
Total cashed out this week: $10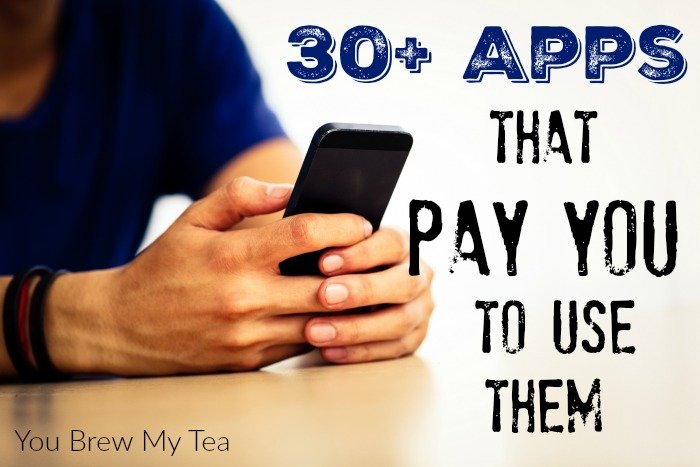 Work At Home Jobs Income:
Social Media Management:  $25
I don't usually do social media management for anyone other than myself and my own blogs, but I did help out a fellow blogger this week with some scheduling since she was headed out of town last minute.  This was done through her social media scheduling tool and utilized a mix of her own posts, questions, and popular or trending topics for the week.
Freelance Writing: $275
I submitted an article to a well-known publication last month that was published this week and paid out immediately after publication.  I often write articles about topics that are bit too personal for me to share here, or things that I don't think would interest my core readers and share on other websites as a freelancer.
Virtual Assistant Services: $650
This week I sold two packages of articles to two different bloggers.  These are sets of articles they requested from me.  I spend time doing SEO research, writing, editing, and even occasionaly include promotions on my own social media pages for these types of articles.  This was for a total of 17 articles.
Blogging: $513
This was a combination of 4 payments for ad services, sponsored posts, and sponsored social media promotion.  I utilize this blog to promote brands and products I agree with, and often do the same on my social media pages like Twitter and Facebook.  The ads you see in the posts and sidebars are also a way that I make money from blogging.
Ad Network: $138
Social Media Shares: $125
Blog Post: $250
Total Earned This Week from Legitimate Online Jobs: $1505.23
Legitimate online jobs are there to use, you just have to make time to really work them.  This includes finding a niche that fits you and working hard for your clients or customers.  I work a lot of really long hours as a blogger and virtual assistant.  The little apps that pay me to use them make some spending money for our date nights, and that's about it.  The real inome comes from my virtual assistant and blogging work.  That is where work is important.  Focus, determination, and a willingness to work really hard is a must.
Some may look at these numbers and think they aren't much.  Others may think they are a lot.  I'll be honest, in my community, I couldn't make this much in a month, let alone one week, at a regular outside the home job.  That said, it is still a struggle sometimes to make ends meet.  Some weeks and months are less financially rewarding than others.  Working from home, legitimate online jobs or not, often means feast or famine.  You have to learn the ebbs and flows to make it work for your family.
More Legitimate Online Job Ideas: