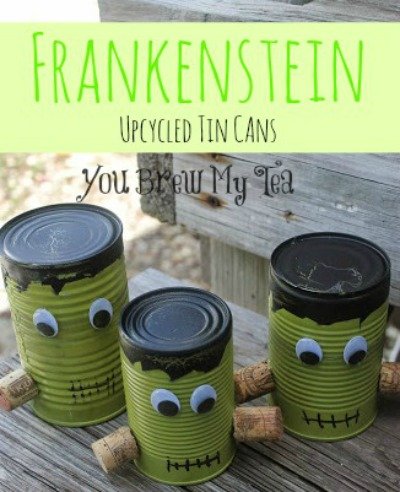 There is nothing quite so fun to me as rescuing items from the recycle bin and giving them new life - " IT"S ALIIIIVE!!!" These cute and terribly fun Frankenstein Upcycled Tin Cans were no exception.  They are the perfect inexpensive party decor or porch decoration. Made mostly from items around the house, you can use whatever you have on hand to add the details to your set.  Whether you use them to decorate inside or out for Halloween, they are sure to scare a smile onto everyone's face and set the mood for a monstrous night!  Make one or make a dozen since this craft is practically free and takes very little time to build - you won't even need your assistant Igor for this project!
FRANKENSTEIN UPCYCLED TIN CANS
Supplies Needed:
Tin Cans various sizes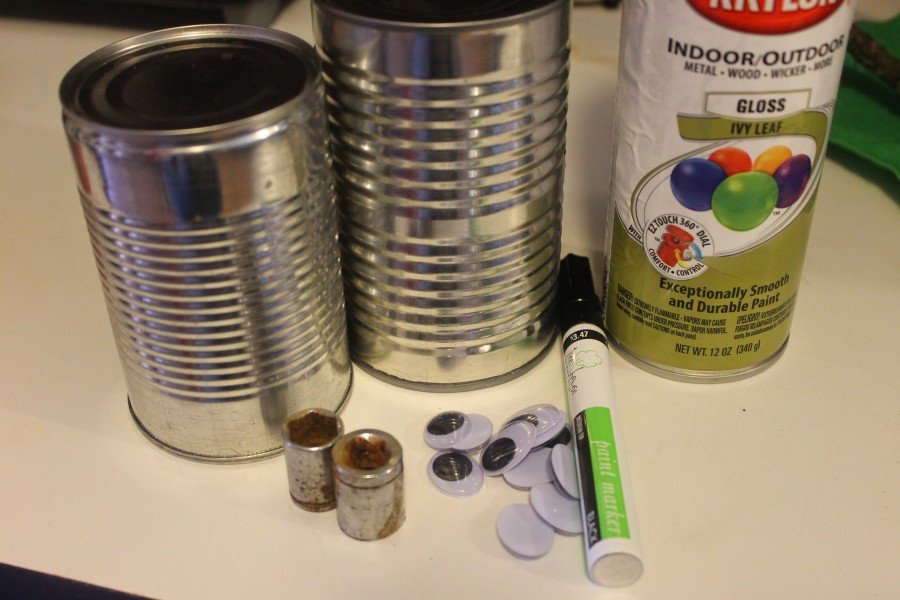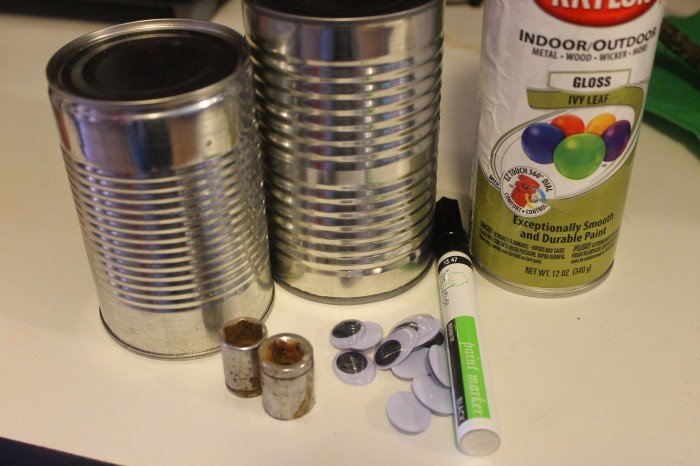 Directions:
Clean and dry cans well, if edges are sharp smooth by using needle nose pliers and sandpaper.
Take cans to well ventilated area (like outside) spray with one light coat of green paint, allow to dry for 5 minutes.
Apply another 1-2 coats until sufficiently covered. Let final coat dry for an hour minimum.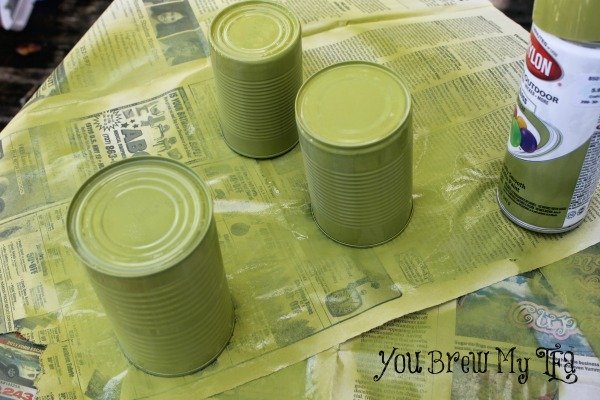 Cut one edge of painters tape randomly-to resemble Frankensteins flat top, wrap around can about ½" down, press firmly into can to get a clean paint line. Cover the rest of can below tape with paper.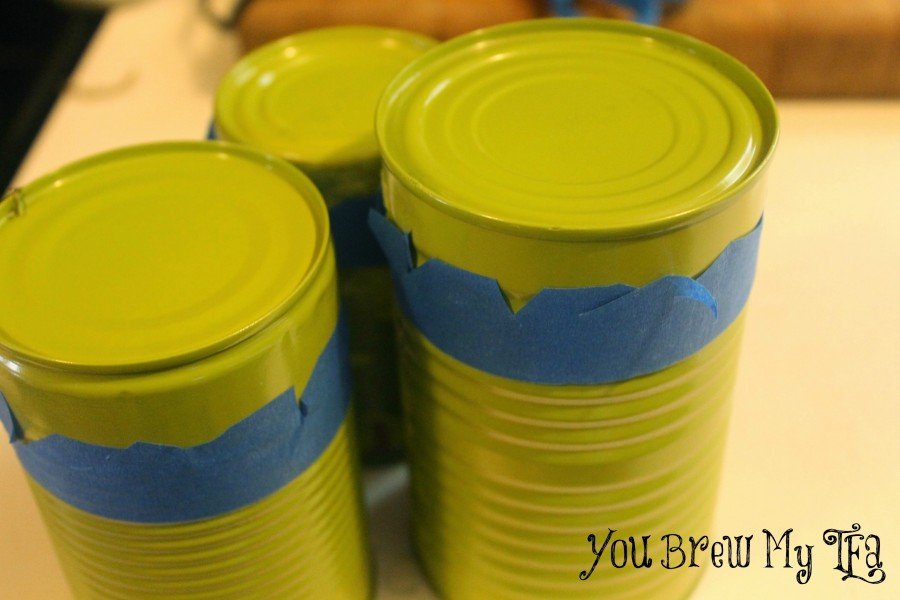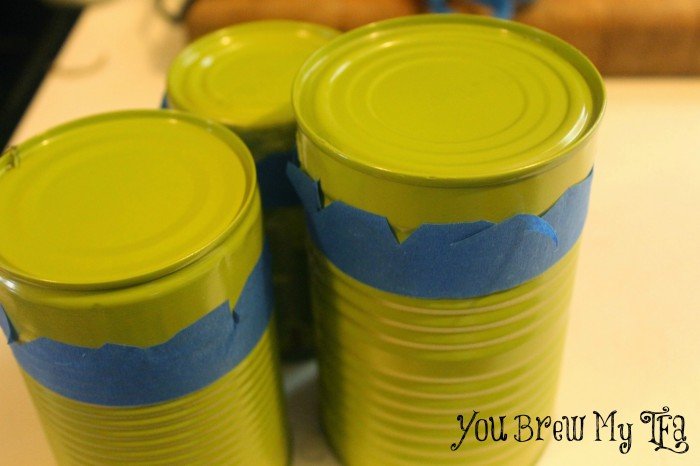 Spray top of can with black paint- 1-2 coats, drying between each. Dry for 20 minutes.
Remove painters tape and  draw on scars and stitched mouth with paint pen.
Hot glue on googly eyes and "bolts"- you can use wine corks, or actual bolts or screws, buttons, or even thread spools.
Set your Frankensteins outside on the porch, on the window sill, or on your kitchen table.  They are really too cute to be scary and the kids will enjoy them.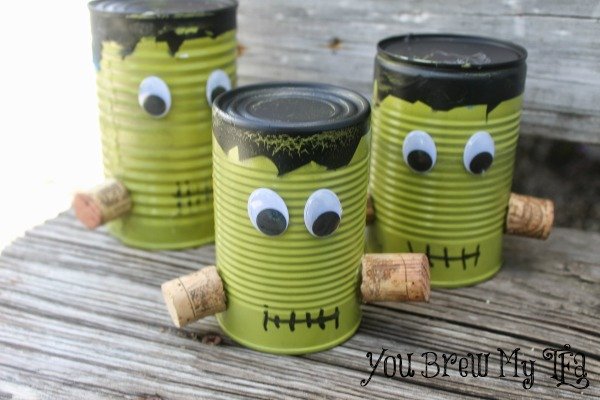 We love these fun and easy Frankenstein Upcycled Tin Cans!  Not only are they frugal and fun, they are doing our part toward recycling and not creating waste.  While we can recycle aluminium cans easily, tin cans from vegetables, soups and stews are much harder to avoid throwing away.  Fun upcycled projects like this are a great way to reuse those cans, leftover paint from other projects, wine corks or rusty bolts and nuts from various household projects.
Make sure to practice safety when doing any project with spray paint.  Wear a mask and paint in a well ventilated area.  While other parts of this project can be done with kids, we recommend doing the paining yourself if choosing an aerosol spray paint.
Don't miss out on all of our great Fall Upcycle & DIY Crafts!
Kids Fall Thumbprint Leaves Craft
Using End Of Season Flowers For Dried Flower Arrangements
DIY Denver Broncos Upcycled T-Shirt Scarf
>>> You know what comes after Halloween...Thanksgiving and Christmas! If you're family's like mine, then it's ALL about the food.
Then it's a great time to read up on how not to put on that holiday weight:
www.youbrewmytea.com/tips-for-weight-watchers-online-success/