Well, I have made it past the dreaded post-op after hysterectomy, and I am here now to share some of my tips with you for how to survive the first days, weeks, and months after this life changing surgery. Whether you chose this, or a health concerned forced this upon you, a hysterectomy is nothing to laugh about.  This is indeed, one of the most invasive surgeries your body will heal from.  Do not, I repeat, do NOT take this lightly. Now, let me dive into some of my experiences and tips for you.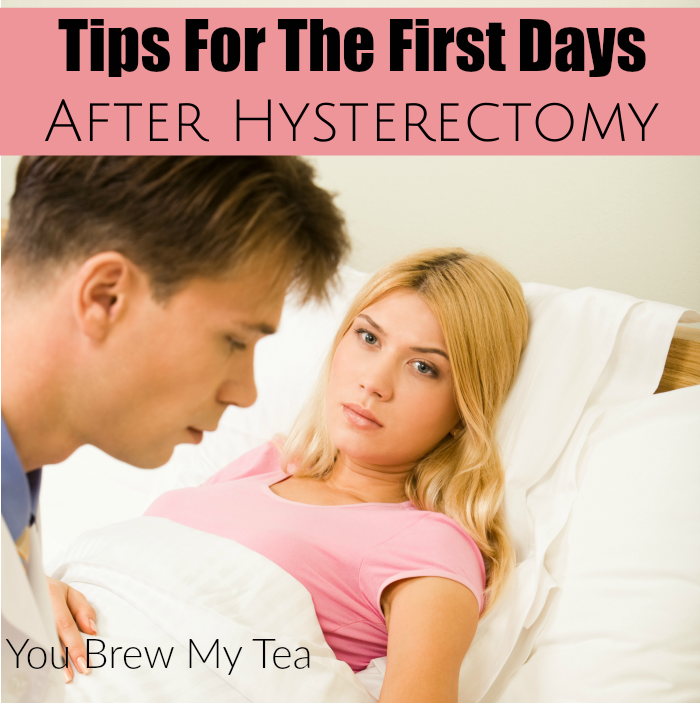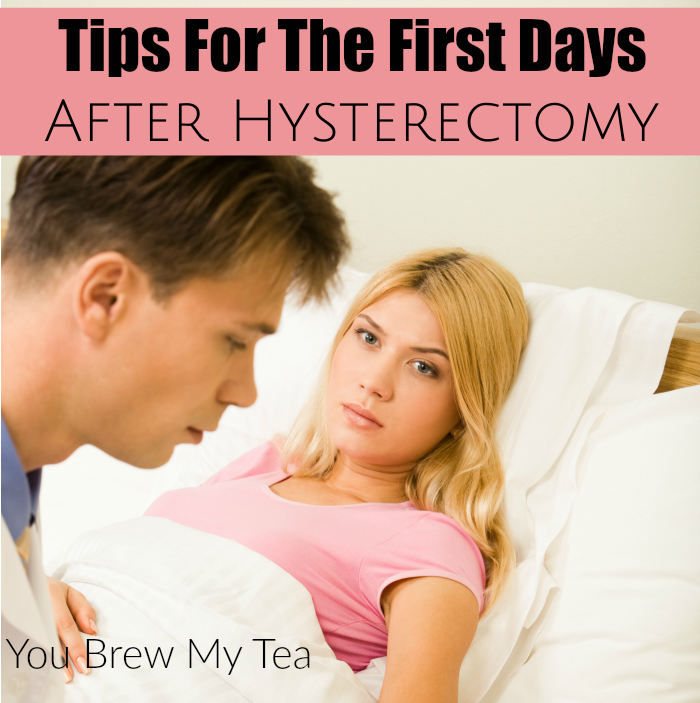 Tips For The First Days After Hysterectomy
This post contains affiliate links.
Let me start by telling you, my situation is rare for most younger women.  I am only 33 as I write this, and I have just had a complete hysterectomy and bilateral salpingectomy.  In layman's terms, that means I had not just my uterus removed, but also both of my ovaries, tubes, and my cervix.  I literally had all of my reproductive organs removed from my body.  This is a common surgery, but rare for someone without existing cancer.  I plan to share more about my reasons for this procedure soon but want to give those looking for tips a good look at what I experienced in the first few days after hysterectomy.
Get help for at least the first 1-2 days.  Not only will you need a ride home from the hospital after surgery, you will need someone at home with you at least for a few days.  It is better if you have someone to help for a week or two, but that isn't always possible.
My gynecologist did my surgery at 7am and I was home by 2pm that day. That is actually pretty normal with LAVH (laparoscopic assisted vaginal hysterectomy).  However, it is not uncommon or a bad thing for your doctor to have you stay in the hospital for 1-2 days post surgery for observation.  If they offer and it is paid for, take them up on it.  Having nothing to do but sleep and watching tv really is amazing.  Your body needs to rest after a traumatic surgery, plus you are at risk o
Having nothing to do but sleep and watch tv really is amazing.  Your body needs to rest after a traumatic surgery, plus you are at risk of ripping sutures and incisions if you do too much too soon.  In fact, almost every surgeon or gynecologist will tell you that you are to do not much more than get up to use the bathroom, showers, and getting a drink for at least two weeks post surgery.  While it may seem like you feel great right away, I have read too many horror stories to test the theory. Stay in bed. Rest.  I didn't, and by day 10, I was wishing that I had.  After hysterectomy, your body has a lot of internal healing to do.  Just because the scars on the outside don't look bad, doesn't mean you don't have a lot going on inside your body.
Expect to sleep. A lot.  Anesthesia can linger in your body for multiple days.  It can also cause many individuals to have side effects like nausea and dizziness for a few days post surgery. One of the biggest things you will notice for at least the first week, is that you feel the need to nap a lot more often.  This is because of lingering effects of anesthesia, pain medication, and simply because your body has to heal from the inside out. Your body needs rest.  Sleep helps you heal.  It is not weakness to need naps for easily 8-12 weeks post hysterectomy.  This is a major change.  It's not a simple surgery.  Even though you can be in out of the OR in under an hour, your body will take months to years to adjust.  If you feel tired, listen to your body.  Get comfortable and sleep.
Your body needs rest.  Sleep helps you heal.  It is not weakness to need naps for easily 8-12 weeks post hysterectomy.  This is a major change.  It's not a simple surgery.  Even though you can be in out of the OR in under an hour, your body will take months to years to adjust.  If you feel tired, listen to your body.  Get comfortable and sleep.
If you aren't sleepy, you will still need to rest.  Keeping some books, magazines, favorite movies, and games on your phone handy can be relaxing while your body heals.
Stay hydrated.  During surgery, you will be given IV fluids.  You may feel like you are water logged on the first day of or after surgery.  In fact, it is rather common to need to urinate frequently on the day of surgery.  However, between lingering effects of anesthesia and any pain medication you take after leaving the hospital, your body is much more likely to become dehydrated.
Another common concern post surgery like this is having a UTI occur.  Due to irritation caused in some women by the use of a catheter during surgery, it can easily lead to a urinary tract infection.  Sleeping, not feeling like eating or drinking, and even occasional vomiting due to the medications post-surgery can lead to your body being dehydrated.  Dehydration is a quick way to end up back in the hospital, or at the least to deal with a frustrating UTI that causes a fever and painful urination.
I find that drinking bottled water works best since our water isn't great.  You can easily use a water filter, or a fruit infusion water bottle to give it some flavor.  If you can't get any more water in, consider things like sipping warm tea, bone broth, or even occasionally fruit juices.  You want to avoid sugar as much as possible during the healing process, so soft drinks should be avoided and juices limited.
I lived on green tea for a few days.  You can find a great teapot set and invest in your favorite herbal teas instead of coffee.  This helped me to stay hydrated and helped with constipation mentioned below.
Don't skip stool softeners.  If there is one thing you don't want after hysterectomy surgery, it is to be constipated.  This is especially of concern when you have your cervix removed and the doctor creates a vaginal cuff.  Any extra pressure in that region can create tears or cause sutures to come out before your body is ready.  This could easily lead to additional surgery or even things like bladder or bowel prolapse.  When I say this is a serious thing, I mean that 100%.  You do not want to strain at all to have a bowel movement.
Stool softeners (Colace) are recommended and may even be prescribed by your doctor post-surgery.  Taking these 2-3 times a day for at least the first week or two is highly recommended.  The other suggestions that I was given and found useful are below.
Hot Tea with Lemon
Coffee
High fiber diet
Fiber supplements
If you are extremely constipated post-surgery, your doctor may recommend using something like a laxative suppository, enema, or even a bottle of magnesium citrate to get your bowels moving safely.
Talk to your doctor about alternative pain medications.  I was prescribed Percocet after hysterectomy surgery.  This was extremely strong pain medication that I really didn't need after the first few days.  I was told that using ibuprofen was fine.  Some individuals will be told that acetaminophen (Tylenol) is a safer choice if there are potential bleeding disorders.
Other ways to help relieve pain can be using a heating pad, wearing a belly binder (only if suggested by your doctor), changing positions regularly, and even holding a pillow across your abdomen for mild pressure.  Make sure to be careful if using a heating pad since your skin will be numb in the incision areas.  Always use a towel or cloth between your body and the heating pad for safety. Never fall asleep with a heating pad on (unsupervised).
Another consideration is that a lot of women have more pain from the gas left in your abdomen post-surgery than the incisions themselves.  Keep Gas-X on hand and do as much light walking as you can tolerate to help break up the gas bubbles and relieve the pain.  This can last for 3-5 days post-surgery, so having that on hand right away is a smart move.
Expect the hormones to be crazy.  I had my ovaries removed which put me into immediate surgical menopause.  I know that my emotional hormonal craziness of the first few weeks and months is not typical for everyone.  That said, even if your ovaries are left intact, anything that involves changing or removing your reproductive organs can change your hormone levels.  Illness and even your body recovering from surgery can.  Do not discount your emotions and hormonal fluctuations.  Expect them to be a bit out of whack for a few weeks to the first month if you kept your ovaries.
If you, like me, are in surgical menopause, there are other tips I will share later that are more directly related to hormone replacement and options that help.  If you are not in menopause but still feel like your hormones are really out of whack after 4-6 weeks, don't hesitate to ask your doctor to do some lab work and double check when you go in for your post-op check at 6-8 weeks.
You may also find that the loss of your uterus can bring about a different depression.  For many women, this is a connection to their children or even the children they wished they could have had.  It can create a lot of emotions.  This is perfectly normal. That said, medical treatment for depression is highly recommended.  Counseling, medications, and evaluation are necessary to make sure you are safe and able to heal both physically and emotionally. In the meantime, talk to your loved ones about this and ask for them to be patient and helpful when you find yourself unable to control your emotions after hysterectomy surgery.
Eat a healthier diet.  Post surgery can be very frustrating if you don't have much help at home.  Planning ahead for your recovery period is really important for your ability to heal.  This includes planning a healthier diet for after hysterectomy surgery.  Your body really needs healthy foods to help you heal.  That means you don't need to be indulging in a ton of junk food, sugary treats, or fast food.  These things will only slow down the progress of healing.
Plan ahead with menu plans for healthy foods, freezer meals and Crockpot meals, and healthy snacks. The week before my surgery, we went grocery shopping and stocked up on things like carrots, cucumbers, tomatoes, and celery that I like to dip in low-fat red pepper hummus.  We also had some low-fat string cheese, bone broth, juice, fresh fruit (cantaloupe, pineapple, watermelon, and grapes) on hand for snacking and staying hydrated.  For easy meals, we had chicken, frozen vegetables, and a few easy to heat soup recipes like our Unstuffed Cabbage Rolls Soup and Beef Vegetable Noodle Soup in the freezer.  I am lucky that my Beau cooks a lot and didn't mind taking care of meal time for the first month after surgery.
If you won't have help at home, make sure to do as much preparing as possible. Find some easy to make breakfast, lunch, and dinner options that are nutritious.  Even things like oatmeal, granola, fresh fruit, and yogurt can be good choices.  Sandwiches with lots of lean meat and vegetables are easy to make, and if all else fails, you can grab some healthier frozen meal options.
Wear comfortable clothing.  Your body will go through a lot of changes.  You'll be bloated and uncomfortable for several weeks.  Don't expect to get comfortably back into your favorite jeans right away.  Wear leggings, yoga pants or skirts that are not binding on your abdomen.  With incisions from traditional surgery or even laparoscopic surgery, you'll want to avoid anything that rubs against them too much.
As I continue through the recovery process, I will continue sharing my thoughts and experiences with you for after hysterectomy.  I know this is a lengthy post, but I am sure that in the first days after your surgery, you will be glad for some first-hand experience.
More Health Tips: