I confess.  I am a huge fan of Mexican chicken recipes.  Anything that has that authentic, Tex-Mex, or even inspired by Mexican flavor taste is going to be a hit in our house.  We love the flavor of cumin, cilantro, and of course a bit of chili powder here and there.  Throw in some garlic and you have my mouth watering.  Just like these great Mexican chicken recipes inspired by some authentic recipes, as well as some classicly Americanized ideas.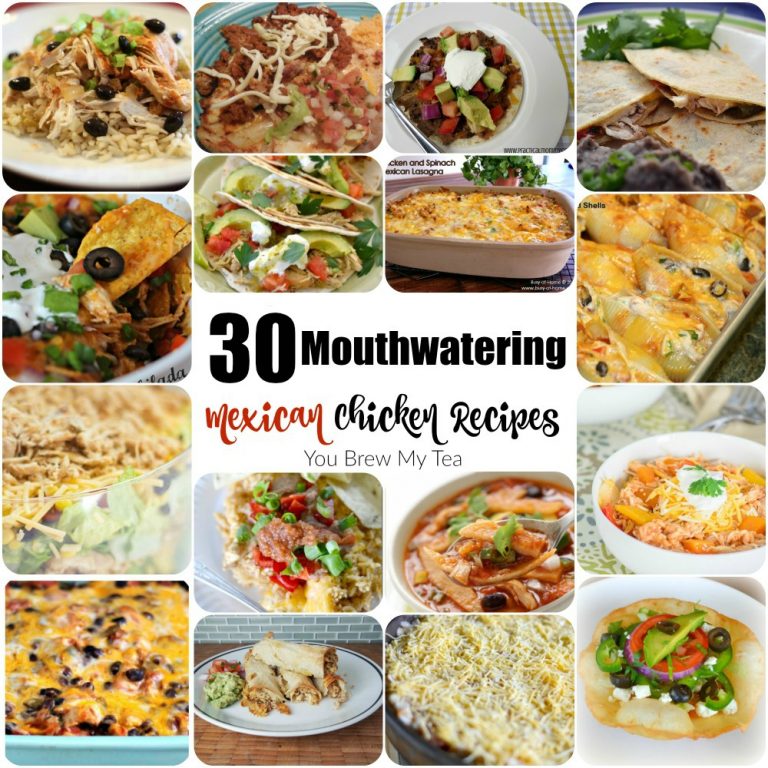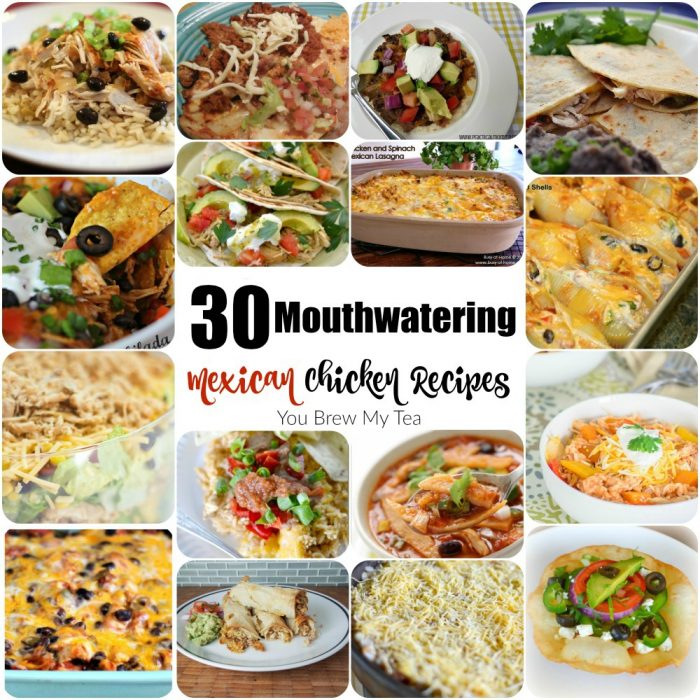 30 Mouthwatering Mexican Chicken Recipes
This post contains affiliate links.
I have broken down these Mexican chicken recipes into categories.  Some slow cooker ideas, a few soup recipes, and of course the many casseroles.  Whether you are looking for a simple recipe to throw into your slow cooker and have ready when you get home from work, or a fun casserole using leftovers, this list has something for everyone.
I chose chicken once again because it is really our main protein source.  We take advantage of the Zaycon Foods sales on antibiotic free chicken breasts for $1.69 a pound.  Right now, we have about 30 pounds of chicken breasts in our freezer, and trust me - they are the best quality I have ever purchased.  The result is, I need some good recipes that are easy for my Beau to throw together when I am busy working.  This list is the beginning of some great ideas for using our chicken.  You can, however, use chicken breast, chicken thighs, or potentially pork or beef for a lot of these!
Crockpot Mexican Chicken Recipes
Crockpot Chicken Verde from You Brew My Tea
Creamy Crockpot Mexican Chicken from Thrifty Frugal Mom
Slow Cooker Cilantro Lime Chicken from Caroline's Cooking
Crockpot Salsa Verde Chicken from Flour On My Face
Slow Cooker Fiesta Chicken from It's A Keeper
Soup Mexican Chicken Recipes
Green Chile Chicken Enchilada Soup from You Brew My Tea
Chicken Tortilla Soup from 3 Boys And A Dog
Casserole Mexican Chicken Recipes
Mexican Chicken Quinoa Casserole from The Year Of Living Audaciously
Green Chile Chicken Enchilada Casserole from You Brew My Tea
Mexican Chicken Corn Casserole from Crystal & Co.
Mexican Stuffed Shells Recipe from Busy At Home
Chicken and Black Bean Casserole from Garden Matter
Chicken And Spinach Mexican Lasagna from Busy At Home
Leftover Chicken Enchilada Casserole from Almost Supermom
Enchilada Mexican Chicken Recipes
Roasted Poblano Chicken Enchiladas from You Brew My Tea
Chicken Enchiladas with Green Sauce from The Year Of Living Audaciously
Chicken Enchiladas from Midwest Modern Momma
Taco Mexican Chicken Recipes
Cilantro Lime Chicken Tacos from You Brew My Tea
Smothered Chicken Tacos from Dear Creatives
Baked Chicken Tacos from Orange Blossoms & Sunshine
Easy Mexican Chicken Recipes
Baked Chicken Fajita Recipe from You Brew My Tea
Cheesy Chicken Taco & Rice Skillet from Faith Filled Food For Moms
Mexican Chori Pollo Recipe from The Gardening Cook
Roasted Pepper Chicken Quesadillas from 5 Minutes For Mom
Easy Mexican Layer Salad from Spaceships & Laserbeams
Polla A La Crema Recipe from The Gardening Cook
Weeknight Dinner Mexican Pizza from Practical Mommy
Mexican Stuffed Poblano Peppers from Feeding Big
Chicken Tostadas from WonderMom Wannabe
Chicken Enchilada Nachos from Living A Sunshine Life
Making these amazing Mexican chicken recipes will make everyone in your family happy.  From rich and creamy to light and healthy, this list of recipes has something that fits into every diet and flavor preference.  I love that these flavors are so easy to adapt if you prefer something spicier, or prefer a mild flavor.
More Great Recipes: