This Weight Watchers Chicken Quesadilla Recipe is definitely a favorite easy meal that the whole family loves.  I have actually been making this recipe since I was a teenager.  I just made a few changes to make it a bit more Weight Watchers friendly, and now I have a meal that everyone loves and can easily fit into my meal plan.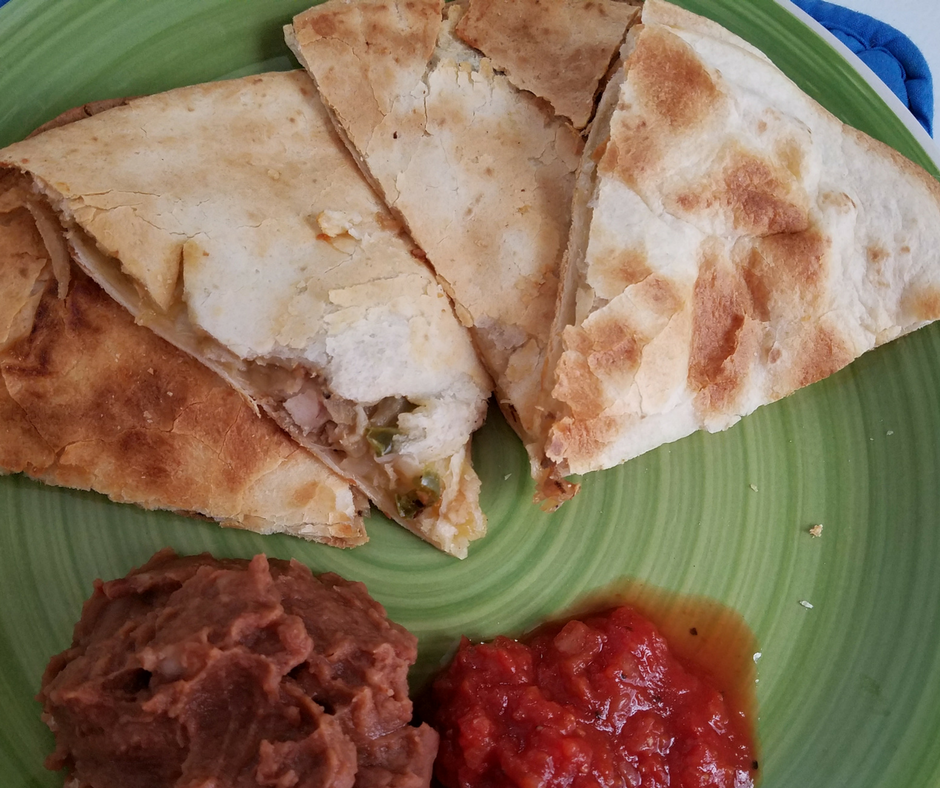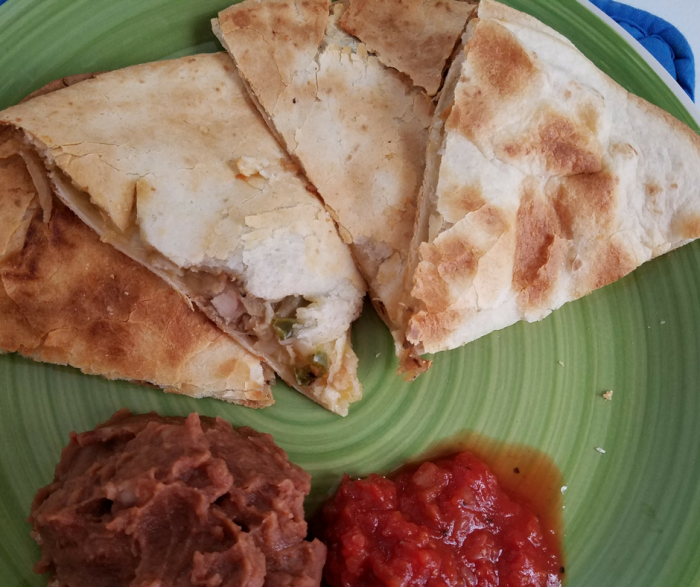 Weight Watchers Chicken Quesadillas Recipe
This post contains affiliate links.  If you make a purchase through these links, I will earn a small commission.
While you can cook this at the time you want to eat, I highly recommend doing some batch cooking in advance of things like chicken and your bell peppers and onions.  If you cook in large batches, then portion and freezer or refrigerate if using in the same week, it saves tons of time.  I often follow the tips in Alea Milham's book Prep-Ahead Meals from Scratch to help with my batch cooking.
Note: I use Ole Xtreme Tortillas for this recipe as they are large, tasty, and only 1 SmartPoint each.  Additionally, I choose to use 2% cheddar, but if you want a lower point quesadilla you may choose fat-free cheese. I find higher fat melts better, so prefer to use it.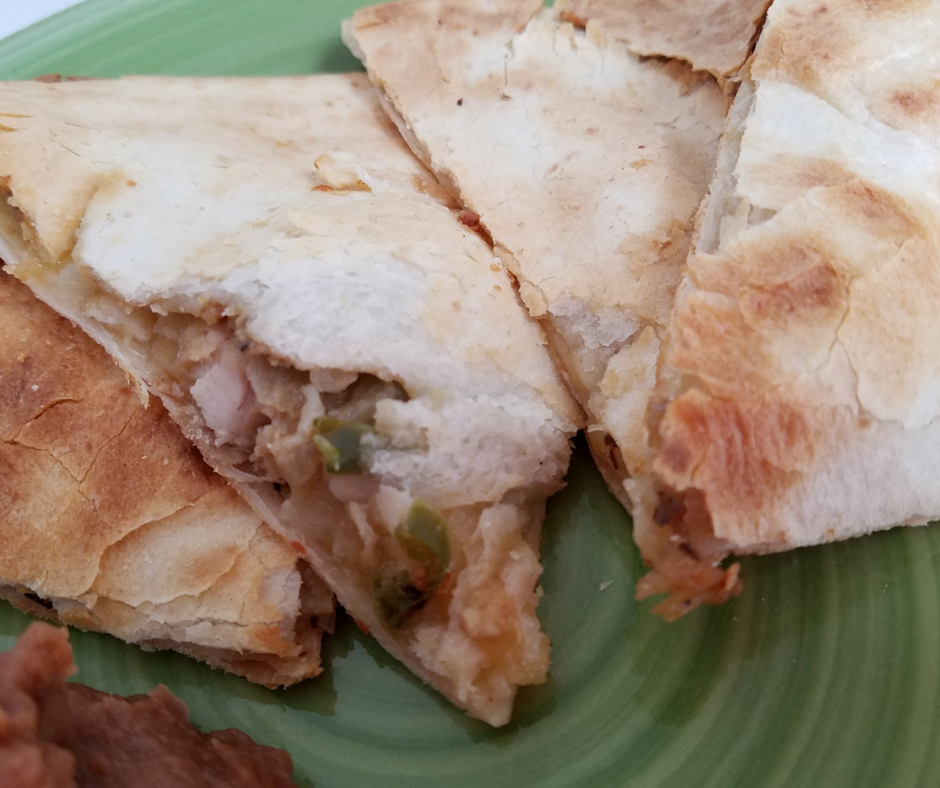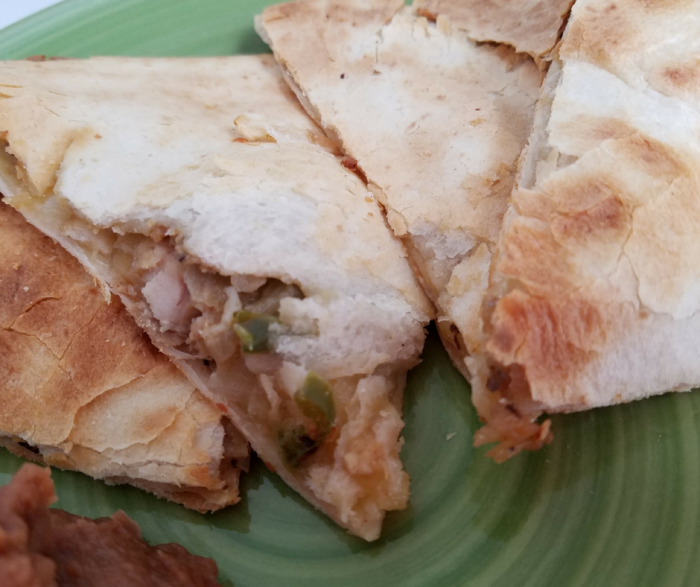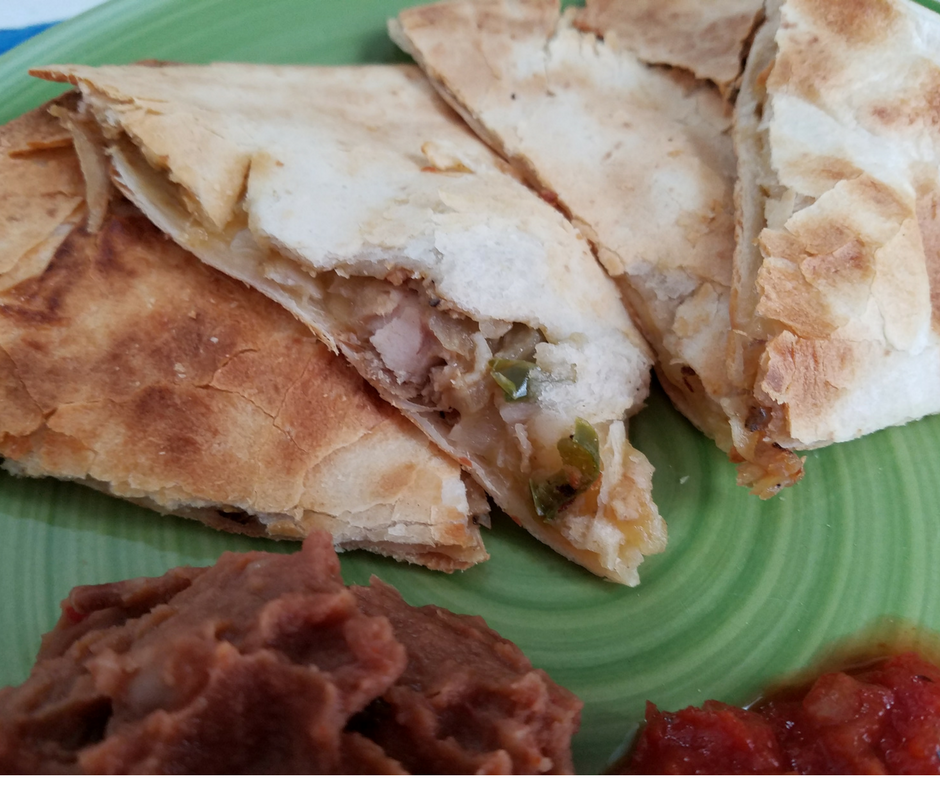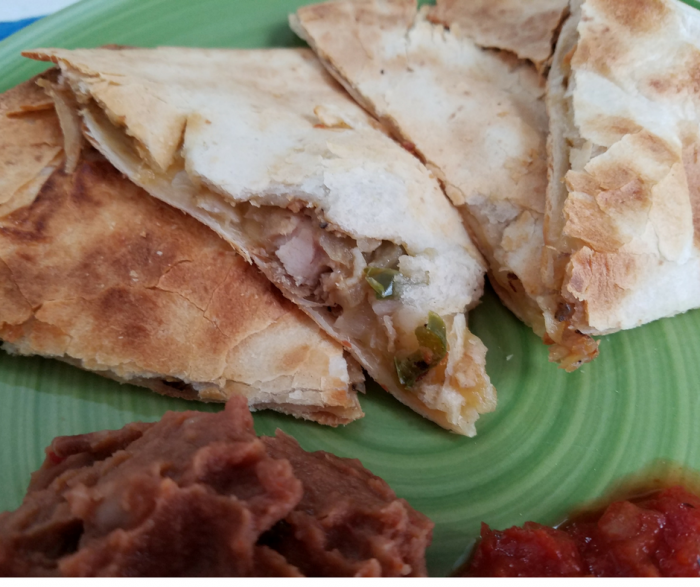 Weight Watchers Chicken Quesadillas Recipe
Ingredients
4 Ole Xtreme Tortillas
½ pound boneless skinless chicken breasts, cut into small pieces
½ bell pepper, diced
½ onion, diced
1 cup 2% shredded cheddar cheese
½ teaspoon ground cumin
½ teaspoon garlic powder
¼ teaspoon salt
¼ teaspoon chili powder
¼-½ cup water as needed
Instructions
Preheat oven to 375 degrees.
In a large nonstick skillet or wok, heat ¼ cup water along with bell peppers and onions. Cook on high for 5 minutes until translucent and tender.
Add the diced chicken, cumin, garlic powder, salt, and chili powder. May add more water if needed to prevent sticking.
Cook chicken and vegetable mixture for 5-7 minutes or until chicken is cooked through and no longer pink.
Remove from heat and set aside.
Place tortilla on baking sheet, and scoop ¼ vegetable and chicken mixture onto one side of the tortilla. You will be folding the tortilla in half to form a half moon, so add the mixture to a single side.
Sprinkle ¼ cheese onto mixture and fold tortilla over to form a quesadilla.
Continue process with all 4 tortillas.
Bake at 375 degrees for 15-18 minutes, flipping halfway through cook time.
Notes
1 Tortilla per serving

PointsPlus: 8
WW Blue Plan: 4SP
WW Green Plan: 6SP
WW Purple Plan: 4SP

Note: Always calculate points for your plan as the points for ingredients listed may vary by brand, i.e., tortilla & cheese fluctuates in points per brand.
Makes 4 servings
If you are curious about how to do the WW new Plans, check out this tip for using iTrackBites Green Plan and our WW Blue Plan Meal Plan for one week.  So easy to make these adjustments!
Making our chicken quesadilla recipe is sure to please the entire family.  I love recipes like this that are easy to serve alongside zero point refried beans and salsa.  They are satisfying, while not adding tons of points or calories to my day!
If you are looking for more great recipes, don't forget to join our Weight Watchers Support Group on Facebook!
More Weight Watchers FreeStyle Recipes: