This is a great WW FreeStyle SmartPoints 7-Day Complete Menu to help you get on track with the Weight Watchers plan.  Whether you are new to the FreeStyle program, or you've been doing this program since the beginning, sometimes you need a little reboot.  A new fresh look at meals can really help you focus and not feel so pressured by the food aspect of the program.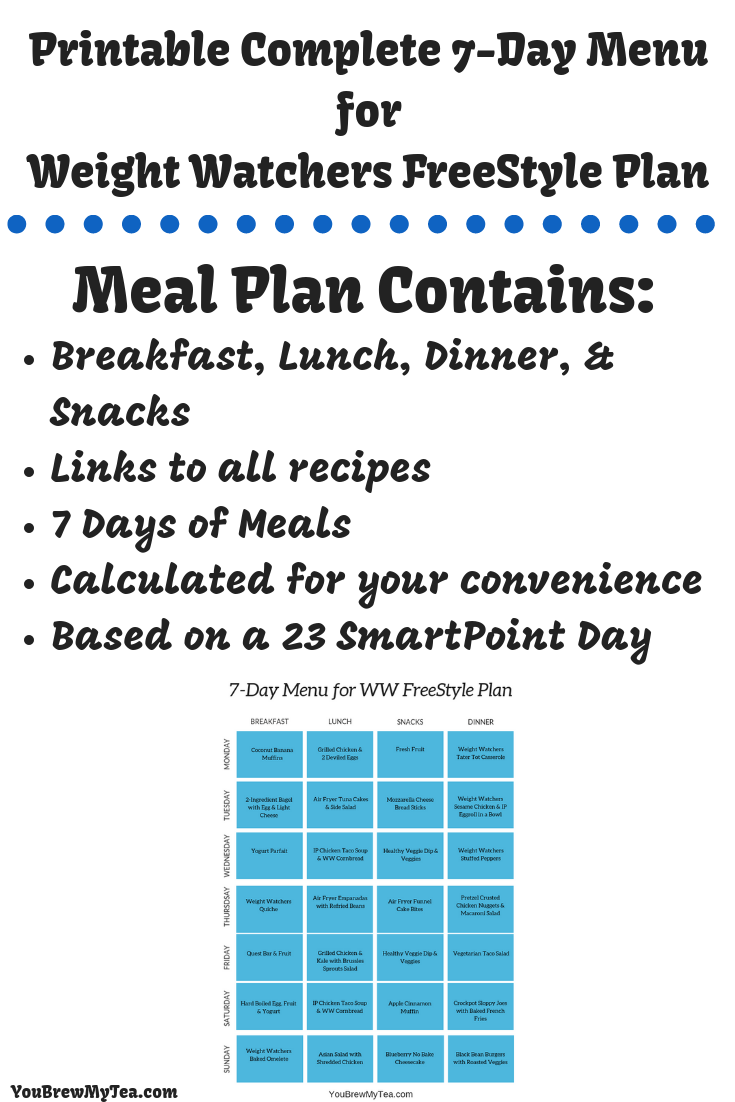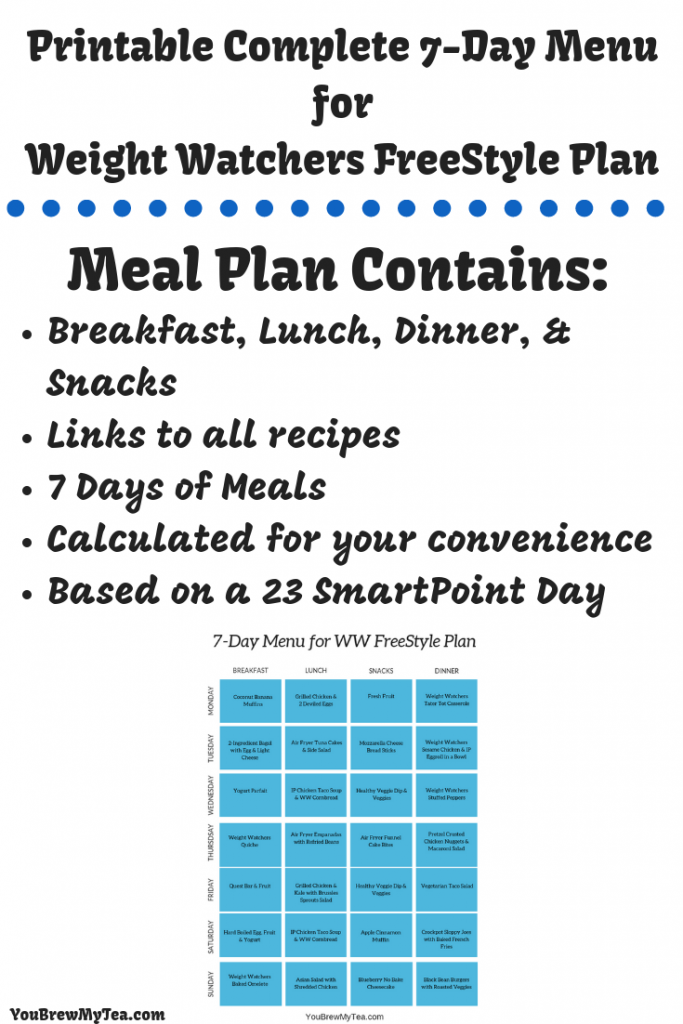 WW FreeStyle SmartPoints 7-Day Complete Menu
This post contains affiliate links. I earn a small commission on purchases made via these links. 
Using a meal plan is a great way to help stay on track when you feel like you can't manage to stay on a diet plan.  WW has restyled in 2018 to be more of a complete wellness program, and whether you are doing this to lose weight or just focus on healthier foods, this meal plan helps tremendously.  There is just something relieving to me about looking at a page and knowing I have everything already planned for the week.
Learn more about the Weight Watchers FreeStyle Plan with these posts: 
WW Announces Wellness Works Incentives for Members
Weight Watchers Updates: FreeStyle and Flex Plan Updates
Why should I use a ready-made meal plan? 
The biggest benefit of using a meal plan like this is that you take the guesswork out of your daily meals.  That helps you to make fewer unhealthy choices and can help you learn more about your own eating habits.  I love knowing what we are having in advance so I don't have that 5 pm, "what's for dinner?" question.
However, this plan is more than just dinnertime suggestions.  I have included breakfast, lunch, dinner, and snacks.  It is designed to make it easy for you, as a new WW follower, better able to navigate the FreeStyle program without stress.  Below are some of our favorite useful tools for meal planning and prep.
Can I make changes to this meal plan? 
This menu plan contains a basic outline of meals.  If your family has food restrictions or allergies, then you can absolutely substitute alternate items that suit your needs into any of these meals.  Alternately, if you just don't like something listed, find a reasonable substitute that you do enjoy.  For instance, I do not eat eggs, so I would skip the quiche or egg, and instead have a muffin or yogurt those days.  This is just a sample to help you get started and by no means is it set in stone. 
Note: The recipes and suggestions linked are designed to make at least 4 servings.  This is a whole family meal plan but can be adapted for a single individual if needed.
Weight Watchers FreeStyle Breakfasts
Day 1: Coconut Banana Muffins (1SP each)
Day 2: 2 Ingredient Bagel with egg and light cheese (4SP)
Day 3: Yogurt Parfait with ½ cup nonfat plain yogurt, fresh fruit, a drizzle of honey, and 1 tablespoon granola (3-4SP)
Day 4: Weight Watchers Quiche (1SP)
Day 5: Quest or RX Bar with fresh fruit (4-8SP depending on the bar)
Day 6: Hard Boiled Egg, fruit, and ½ cup nonfat plain yogurt (0SP)
Day 7: Weight Watchers Baked Omelet (2SP)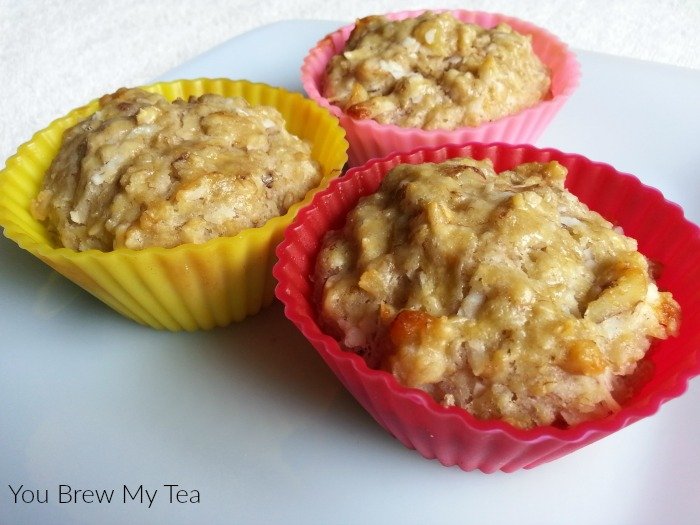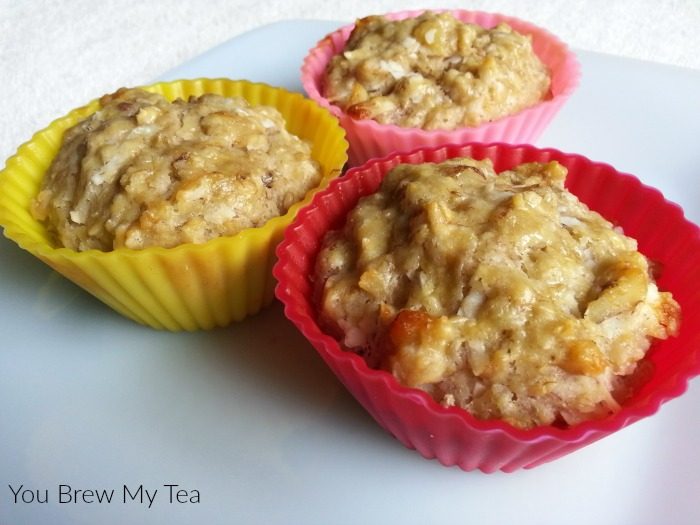 Weight Watchers FreeStyle Lunches
Day 1: 3 ounces grilled chicken breast with 2 Weight Watchers Deviled Eggs Recipe (2SP)
Day 2: Air Fryer Tuna Cakes with low-fat tartar sauce and a side salad (3-4 SP depending on salad dressing)
Day 3: Instant Pot Chicken Taco Soup with Weight Watchers Cornbread (3SP)
Day 4: Air Fryer Empanadas with fat-free refried beans (3SP)
Day 5: 3 ounces grilled chicken breast with Kale & Brussels Sprouts Salad (5SP)
Day 6: Instant Pot Chicken Taco Soup with Weight Watchers Cornbread (3SP)
Day 7: Asian Salad with shredded chicken (4SP)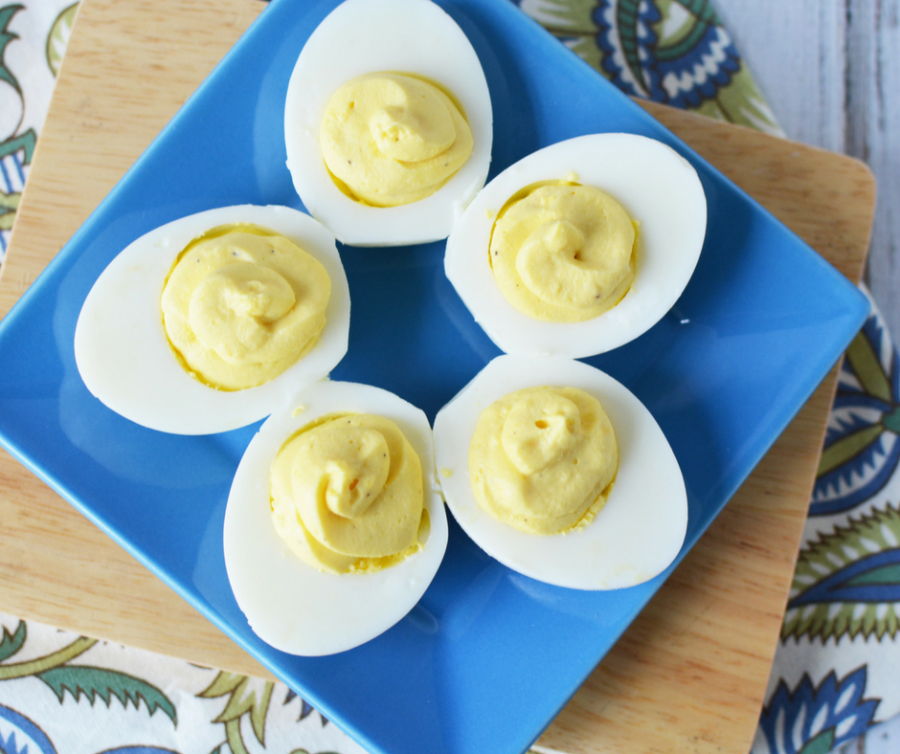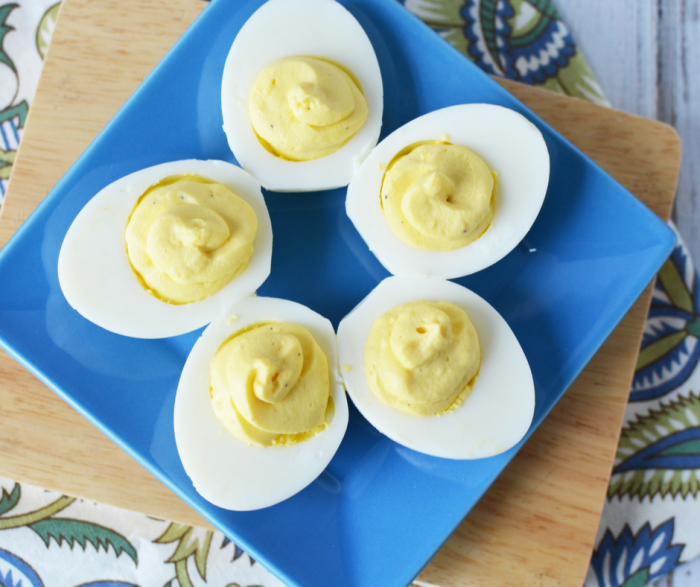 Weight Watchers FreeStyle Dinners
Day 1: Weight Watchers Tater Tot Casserole (10SP)
Day 2: Weight Watchers Sesame Chicken with Instant Pot Eggroll in a Bowl and ½ cup rice (6SP)
Day 3: Pretzel Crusted Chicken Nuggets and Macaroni Salad (7SP)
Day 4: Vegetarian Taco Salad (4SP)
Day 5: Chicken and Mushroom Dinner (0SP)
Day 6: Crockpot Sloppy Joes with baked French Fries (6-8SP depending on bun and fries)
Day 7: Black Bean Burgers with roasted veggies (4-5SP depending on bun and condiments)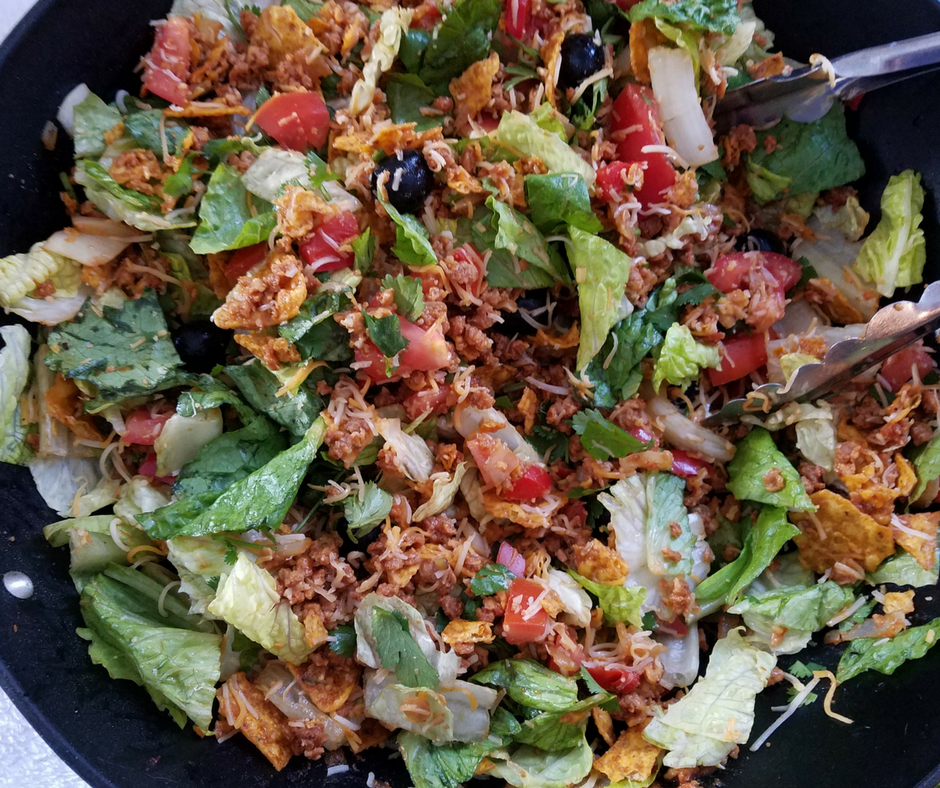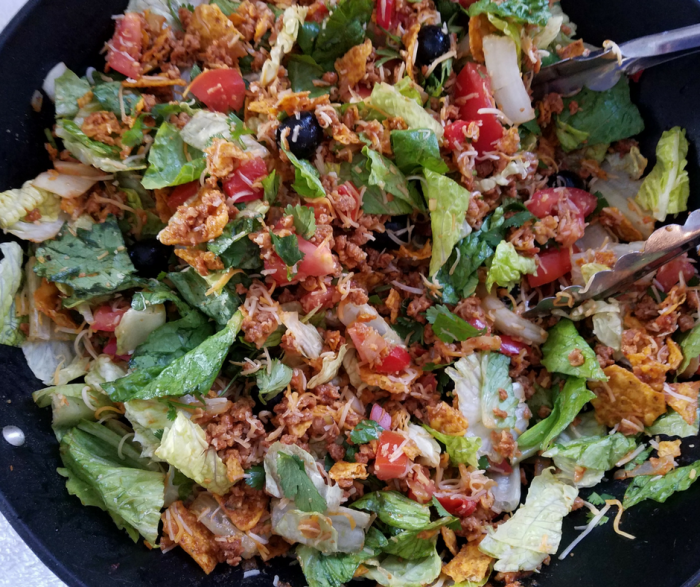 Weight Watchers Snacks and Weight Watchers Desserts
I always keep some fresh fruit and veggies around for zero point snacks, but we all know that sometimes you need a little something more to satisfy a craving.  Below are some great low point snacks you can mix and match into your days depending on your craving and points allowances.
Mozzarella Cheese Sticks Bread
Blueberry No Bake Cheesecake Recipe
Click on the image below to print your copy of this 7-day complete menu plan for the WW FreeStyle SmartPoints Plan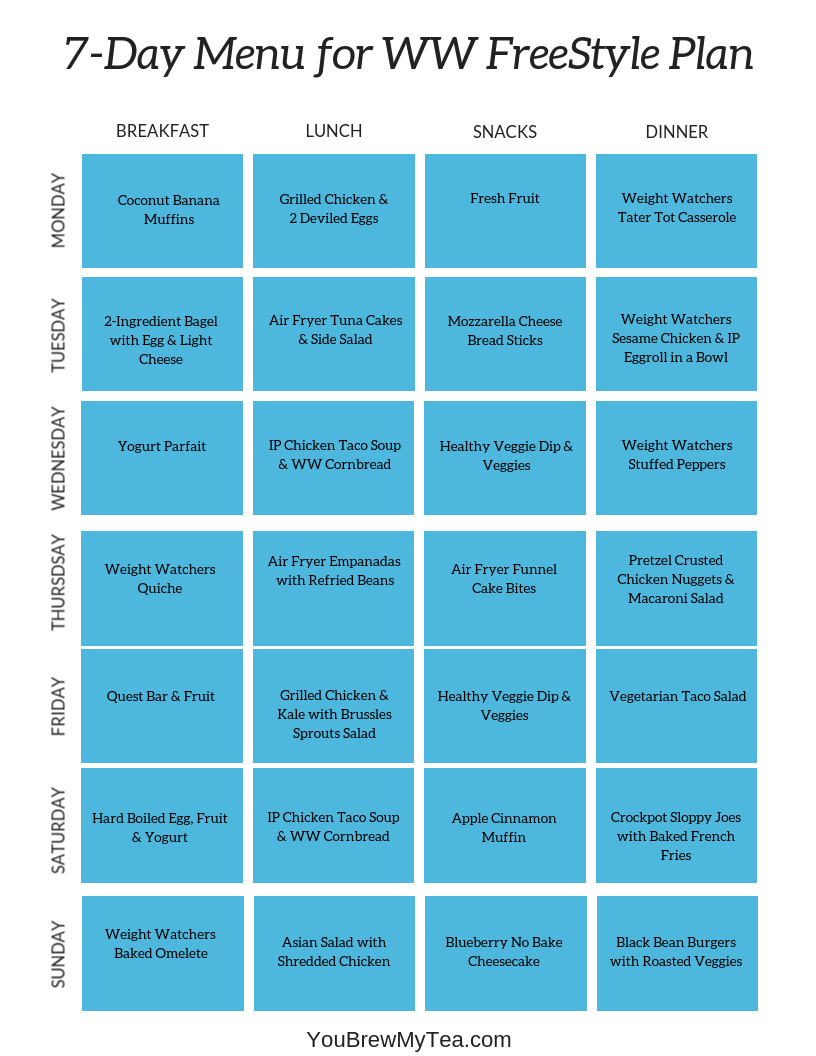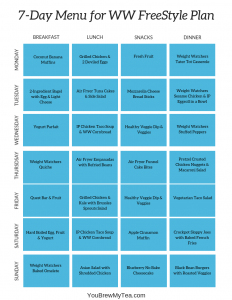 How to stick to Weight Watchers FreeStyle Program
If this menu plan isn't enough to keep you on track, don't stress!  We have tons of tips for helping you make the most of this lifestyle program.  Remember, WW is all about whole body wellness.  Yes, losing weight is a huge part of that focus, but it begins with understanding your body and its individual needs. Below are just a few of our posts to help you manage this program and to get healthy from head to toe.
What to do When Weight Watchers Isn't Working
6 Ways to Eat Healthy Meals on the Go
Weight Watchers Program Must-Haves for Success
Weight Watchers Dining Out Guide
More Meal Plans: 
As you use my WW FreeStyle SmartPoints 7-Day Complete Meal Plan, you may be looking for other weeks of plans with different options.  Below are two great picks for the FreeStyle Plan, as well as one that is focused on the Beyond the Scale plan that is prior to FreeStyle.  Check them out for more functional printable menus for your family.
Weight Watchers FreeStyle Vegan Meal Plan
Weight Watchers FreeStyle One Week Meal Plan
Weight Watchers SmartPoints Beyond the Scale 1 Week Meal Plan (Plan Prior to FreeStyle)